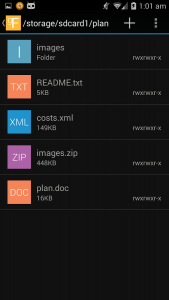 The Play Store is indeed filled with lots of apps that are primarily designed to help you manage and organize the files that you store on your Android device. It's just that some of these apps may be too intricate for your taste so it's best to choose an app that's simple yet very reliable. Speaking of which, gFile is a file manager that focuses on simplicity and elegance. So let's find out if it can really live up to your expectations.
What Is It and What Does It Do
Main Functionality
Developed by GAMA INC, gFile is a minimalistic file manager for Android that you can use to organize and manage the files on your internal storage and SD card. Compared to other Android file managers in the market, gFile mainly focuses on four aspects. In other words, it wants to provide you with an efficient file manager that is simple, minimal, fast and elegant. Apart from this, this app also flaunts a user interface that is quite similar to Gmail for Mobile.
Pros
Simple, easy to use
Neat, stable and responsive UI – the app's user interface is also similar to Gmail for Mobile
Fast – can load and transfer your folders and files in an instant
You can cut, copy, select, rename and delete files
Can modify user permissions – read, write, execute for owner, groups and others
Features two elegant UI themes – light and dark
Features an overview of your device storage capacity – for both internal storage and SD card
Can access and view any storage medium and even your system files
Cons
Some of the app's most vital features can only be accessed if you opt to purchase its Pro version. These features are as follows:

Root access
Multi-background copying
Image thumbnails
Search file directory

No thumbnails for videos
There's no option for changing the viewing mode to grid, thumbnail or list view
You cannot select multiple files and send them to other devices via Bluetooth, Wi-Fi, email, etc.
If you want to move or paste a file to a new folder, you need to create a new folder first or else, it won't work
Lacks file/folder properties
Discussion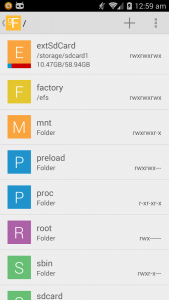 Some users would prefer a file manager that has everything that they want but there are also those who value simplicity more than anything else. This is exactly what gFile aims to provide. So instead of giving you hundreds of features, some of which may be totally unnecessary, it focuses more on what it considers as a necessity. Like, for example, it provides you with a complete set of tools for copying and moving your files. It also supports the basic file management commands such as cut, copy, paste, select, rename, etc.
Aside from this, gFile also features a neat and elegant user interface that's somewhat similar to the UI design of Gmail for Mobile. So basically, you get a straightforward yet colorful interface where the thumbnails represent the first letter in the folder's name or initial. It also supports some simple touch commands like "long-press to select", "swipe down to refresh", etc. What's also great about this app is that it supports two themes – light and dark. Both of these blends perfectly with your system's default UI design. You can also access any storage medium or file directory just like your device's system folder, internal storage and SD card.
Anyways, this app pretty much does what it is intended to do. Just keep in mind that some of its essential features aren't available for free users. This includes its root access, multi-background file copying, image thumbnails and file search. While it wouldn't really cost you much to upgrade to the app's paid version, there are other file managers out there that are willing to provide you with these features at zero cost so that alone will leave you thinking if it's really worth for you to keep this app or not.
Nonetheless, gFile is definitely fast, stable and reliable enough to store and manage your files. I just don't like the fact that it doesn't let you create a new folder right before you paste or move your files from one file directory to another. So you need to create a new folder first before you can even start copying your files or else, you will be left with no other choice but to redo everything from the start.
All in all, gFile gives me the impression that it's still a work in progress and that there are still a lot of things that needs to be polished and enhanced. Its strongest point, however, is its simplicity plus it's notably fast.
Conclusion and Download Link
If you are looking for a simple yet fast and reliable file manager, I suggest that you check out gFile but if you want a file manager that you can use to efficiently manage and organize your files, I suggest that you try to look for an alternative like AntTek File Explorer.
Price: Free, Pro – £0.75 (via in-app purchase)
Version reviewed: 2.2
Requires: Android 4.0 and up
Download size: 423KB
Related Posts