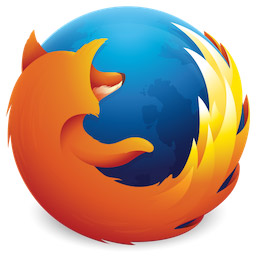 Are you an avid Firefox user as well as an avid web-mail user? Ever clicked on a mail-to link on the Internet only to result in a desktop email client loading up trying to handle your email? This very quick tip will show you exactly how you can set up Yahoo or Gmail to handle the email links that show up in Firefox.
Before We Begin
If you wish to disable Gmail or Yahoo as your mail-to handler in Firefox simply follow the guide and do the opposite.
The method described in this guide will work on any desktop operating system that supports Firefox 14 and up — including Windows XP, Vista, 7, 8, 8.1, Mac OS X, and Linux.
How To Enable Gmail or Yahoo As The Default Mailto Application In Firefox
Open the preferences window in Firefox. This can be easily found in the Firefox button menu. Click the applications button in the Firefox menu that has opened. You will be greeted with a search box.

In the search box type mailto and press the enter key.

Once you've searched for mailto, you'll see it instantly pop up (much like the picture above). It's very likely that mailto in your version of Firefox is set to 'Always ask'. Under the 'Action' pane, click the arrow to reveal the drop-down options.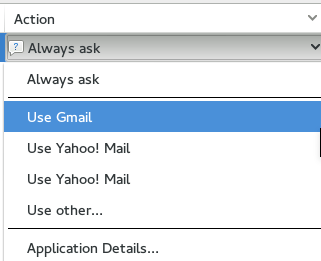 In the drop-down menu, select Gmail or Yahoo followed by the close button. No need to restart, when you click on mailto links in Firefox they will open Gmail or Yahoo in a new tab!
Conclusion
It seems like a simple thing, but it's very welcomed by people who aren't fond of desktop email clients (that may or may not come bundled on their computers) opening every single time they click on a mailto link. Enjoy!
Related Posts