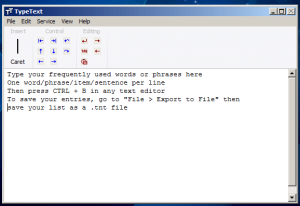 Time is gold and this is exactly the reason why a lot of us would constantly seek for better ways to become more productive and goal-oriented. It is also an undeniable fact that time management plays a very important role in one's ability to perform well at work. So instead of wasting your time doing those repetitive typing tasks, why don't you just use a simple tool like TypeText to automatically enter your most commonly used phrases and words?
What Is It and What Does It Do
Main Functionality
TypeText is a simple and lightweight tool that you can use to automatically enter your frequently used phrases and words into any type of document or text editor such as MS Word, MS Excel, WordPad, Notepad, etc. It basically functions like clipboard but it can hold multiple entries or items. So all you need to do is to enter your frequently used words or phrases on TypeText and then you press CTRL + B to paste any of these items on your text editor.
Pros
Simple, lightweight, easy to use
Easy to install
Lets you keep a copy of your frequently used words and phrases plus you can just load and paste them up whenever you like
Helps saves time and effort
Hassle-free – saves you from doing those repetitive typing tasks
Configurable user options
Non-obtrusive – can be minimized at the system tray area
You can export/import different data files in .tpt format
Is portable
Cons
For some reason, the software's CTRL + B function does not work in LibreOffice. It also doesn't work on web-based document editors such as Zoho Writer for Chrome and Google Docs
There are no clear instructions as to what the tools in the palette are used for
Needs a "word wrap" option
Discussion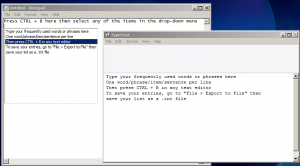 Have you ever encountered a situation in which you are tasked to do some data entry or typing task and yet, you find it so tedious since you need to enter the same words or items in almost every line, column, row or section? Apparently, this type of work can take so much of your precious time but this doesn't mean that you can't do something about it. As a matter of fact, you can finish your work faster for as long as you have this handy tool called TypeText.
With this tool, you can automatically enter your frequently used words or phrases on any document or text editor. The way it works is quite simple. You just need to create a list of the words or phrases that you frequently use and place them on the TypeText editor. After which, you can use the "Export to File" option to save your list to your local folder. The file will be saved in .tpt format and you can just load it back whenever you like.
Anyways, if you want to use any of the words or phrases on your list, simply load or open your preferred editor (ex. MS Word, Notepad) and then press CTRL + B. A drop-down menu will then appear. After which, just select the item that you want and that's it. The word or phrase that you have selected will be automatically placed on your editor so there's no need for you to type it over and over again.
In addition, TypeText also flaunts a simple yet neat user interface. You can also configure its settings in any way that you want. You can also minimize it in such a way that it would stay hidden in your system tray area. It also very stable and it loads smoothly without any noticeable glitches or bugs. However, I did notice that its CTRL + B function does not work on LibreOffice Writer. You can't also use it on web-based document editors such as Google Docs and Zoho Writer. It also doesn't give a clear description as to what the tools in its palette are used for. Apart from this, I also think that this tool needs to have a "word wrap" option.
To sum it up, I can say that TypeText for Windows is a reliable software that you can use to speed up your writing and data entry tasks. It will definitely come in handy to those whose line of work often requires repetitive typing.
Conclusion and Download Link
TypeText functions like clipboard but only way better since it can handle multiple items at a time plus you can save your data as a .tnt file. It's an ideal tool for writers, typists, transcribers, data entry specialists, virtual assistants and even bloggers. It may have a couple of downsides but all in all, this tool does what it is supposed to do – no more, no less. So go ahead and give it a try.
Price: Free
Version reviewed: 1.10
Supported OS: Windows XP, Vista, 7 and 8
Download size: 1.02MB
VirusTotal malware scan results: 1/50
Is it portable? Yes
Related Posts