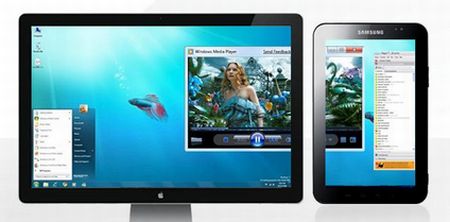 Have a productivity problem within windows yet only one screen? Own an Android tablet? If so, the answer is right under your nose. Using the iDisplay Android app will enable you to turn your tablet into a second monitor.
Before We Begin
The iDisplay Android app is a paid application, but a great one at that. For the $4.99 price tag, it's worth it if you want to turn your tablet into a second monitor.
The Android app works with Android version 2.1 and later.
In order for iDisplay to work, drivers are needed on your Windows or Mac computer. Download them from here. If you're a Windows 8 or 8.1 user, install the drivers in Windows 7 compatibility mode. If you're unsure how to do that, just right click on the installer and look for 'compatibility'. Be sure to reboot your machine when the drivers have been installed.
Note: If iDisplay is not working, your firewall may be blocking it.
How To Use Your Android Tablet As A Second Display for Windows or Mac
After installing both the iDisplay Windows drivers and the Android app, it's time to set everything up. You'll need to make sure your PC and Android tablet are on the same network. When you've determined that both your tablet and Windows PC are communicating, open the Android app and connect to your PC. If the iDisplay Windows drivers have been installed correctly, your PC will show up in the Android app. Follow the instructions that the app prints on-screen.
Conclusion
Mobile devices aren't just for play, and iDisplay proves it. It's a wonderful way to get some extra productivity out of your tablet. Besides, who doesn't love having a second or third monitor? Enjoy!
Related Posts