Google Chrome is a wonderful browser, but if there's one thing it's lacking is the way it scrolls. However, it's not as if this feature isn't being toyed with behind the scenes. As such, in the hidden chrome://flags area of Chrome, you can enable the experimental 'Smooth scrolling' feature.
Before We Begin
Disabling the smooth scrolling flag is as easy as following this guide again and then clicking disable.
How To Enable The Hidden Smooth Scrolling Feature In Google Chrome
In Google Chrome, open a new tab, navigate to chrome://flags, and search for 'Smooth Scrolling'. It's a good idea to use ctrl + f to search for it.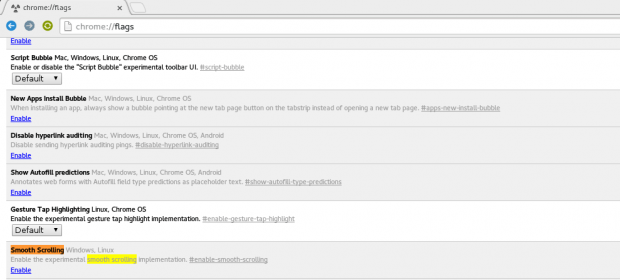 After enabling, the feature will activate right away. Done!
Conclusion
Though Google Chrome is a very powerful and full featured browser, it comes up short compared to Mozilla's Firefox in the smooth scrolling department. Usually, when scrolling with Chrome, it feels really rigid and not very buttery. It's a good thing that Google has a knack for hiding experimental features inside Chrome. Enjoy!
Related Posts