Google Play Music is becoming an increasingly popular service. The service has some awesome features, but the absolute best feature is the ability to upload up to 20,000 songs to your Google Play Music account for free! Library storage is truly a great feature, but it comes with some limits; music can only be uploaded from your Windows, Mac or Linux machine. Bummer.
That's where this guide comes in. With a bit of tweaking, it's possible to use Dropbox as a go-between for uploading music directly from your smartphone to your PC. Let's get started!
Before We Begin
You must have a Dropbox account, and the Dropbox app installed on your Android device.
You must have Dropbox installed on your PC (or Mac/Linux).
You must have a file browser installed on Android.
Uploading music to Google Play requires the Google Play Music Manager.
In order for the upload via Android to take place, your PC's Dropbox client MUST be turned on (as well as the Google Play music manager).
Note: Google Play Music can be configured to upload directly from the music directory of your Computer, but as that would make using Dropbox difficult, it's a better idea to make a folder separate from your entire music directory.
Upload Music To Google Play From Your Android Smartphone or Tablet
To start off, create a folder inside the Dropbox sync folder on your PC. Name it 'Google Play Upload Folder'. Putting the folder inside the sync folder means that files can be added to the upload folder from any client, including the Android app.
After creating the new folder, it's time to add it to the music manager as a destination. Do this by opening the Google music manager, clicking the upload tab, clicking the 'add folder' button and browsing for the folder (located inside your Dropbox sync folder). Make sure the 'automatically upload songs added to my selected folders' box is checked.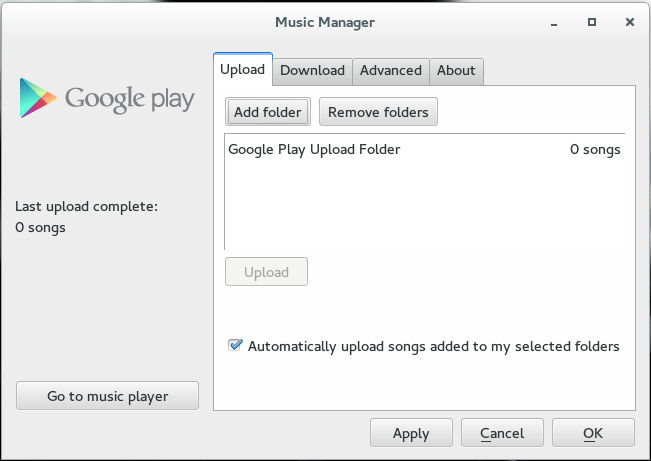 With the upload folder created inside the Dropbox sync folder and set up in Google music manager, it's time to upload from Android. Simply copy music files to the sync folder (called Dropbox) located on the root of your Android device's file system.  This is done by opening the Astro file manager (the one listed in 'Before We Begin'). Make sure audio files are placed in the 'Google Play Upload Folder' (located inside the Dropbox sync folder).
Conclusion
Google Play Music is a great service, but lacks a lot of handy features. This workaround is the closest it gets to being able to upload directly from Android. Enjoy!
Related Posts