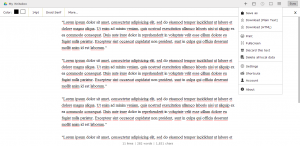 One of the main advantages of using a distraction-free text editor is that you don't need to think of anything else. You just need to focus on what you're writing and simply let your ideas flow. Anyways, this is exactly why you should check out this free online writing tool called Writebox. Let's see if this online text editor can live up to your standards.
What is it and what does it do
Main Functionality
Writebox is a cross-platform text editor that flaunts a minimalistic user interface. It is meant to provide you with a simple tool for distraction-free writing that you can use whenever or wherever you go. One of the main highlights of this tool is its ability to sync your text data to your Dropbox or Google Drive. It can also be accessed via different platforms such as Chrome, Android, iPhone and iPad.
In this review, I will be reviewing the web version of Writebox.
Pros
Easy to use
Fast-loading, no glitches or lags
Minimalistic UI – ideal for distraction-free writing
Features basic tools for text editing and formatting such as preview, print, full screen, change font color, font type and font size. It also shows an overview of your total word and character count.
You can download your text file as plain text (.txt) or HTML
Supports data sync to Dropbox and Google Drive
Supports keyboard shortcuts
Secure, uses 256-bit encryption
Cons
None that I can think of but this online text editor could definitely use some more basic tools for editing and formatting
Does not support auto-sync so you have to manually sync your files by pressing the "Sync" button; you can also use the Ctrl+S command on your keyboard
Discussion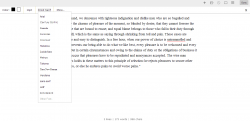 One of the main highlights of Writebox is its ability to sync your data across multiple platforms as it can seamlessly connect to Google Drive and Dropbox. Apart from this, this online writing tool also flaunts a simple and responsive user interface that is well-suited for distraction-free writing. In other words, it's been completely stripped down to the point that you can only find the most basic tools that you'll need for text editing and formatting. This, however, is a good thing especially if your main goal is to write without any distractions.
In the web version of Writebox, you don't need to log-in or create an account. You simply need to load it on your web browser and you can start writing whatever you want. The only time that you will be required to log-in is if you want to sync your data with your Dropbox or Google Drive account. Speaking of which, syncing your data can be quite helpful especially if you want to access your text files across different platforms. If you don't want to use its sync feature, it's still okay. Just make sure to save your work on your local hard drive. If not, all of the changes that you've made to your document will be completely wiped off as soon as you clean your web browser's cache.
All in all, I can say that Writebox is user-friendly, responsive and stable. It has a neat and simple typing interface. Plus, its toolbar will automatically disappear as soon as you start writing so all that's left for you to do is to focus on your work. I also like the fact that it can sync your data across different platforms via Google Drive and Dropbox. Thus, it makes it easier for you to access your files from one device to another.
Functionality wise, I really don't have much to say about this online writing tool. It's a decent choice especially if you're only planning to use it for writing your rough drafts, short stories and poems. It's just that it could have been much better if this tool will also support auto-sync since its current version will still require you to manually click the "Sync" button. There are also a couple of basic editing and formatting tools that this tool lacks such as the option to organize items in bulleted lists as well as the option to underline a selected text or word.
Conclusion and download link
The web version of Writebox is a decent choice for users who are currently looking for a simple yet reliable online writing tool. It's also stable and responsive enough for you to use on a regular basis. Plus, it's free from annoying glitches and errors. Of course, you can also check it out on other platforms. It's also available on Chrome, Android, iPad and iPhone.
Price: Free

Version reviewed: N/A

Requires: Works on any web browser (Chrome, Firefox, Safari, Opera, etc.)

Related Posts