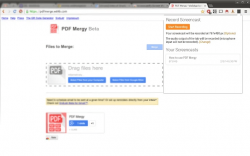 You'll know when you'll need a reliable video screen capture tool because it comes in handy when you are planning to make a video review or tutorial. The thing is, there may be a lot free screencast tools out there that you can download but only a few can provide you with the essential video screen recording features that you want. If you are looking for tool that you can use instantly without having to install anything on your desktop, then better check out this free Chrome extension called Screencastify.
What is it and what does it do
Main Functionality
Screencastify is a free screencast tool for Chrome that you can use to record anything on your current tab. It also supports desktop capturing but the said feature is currently experimental so it might not work properly on your computer. What's great about this extension is that it doesn't depend on any third-party script or plug-in like Java, Flash, etc. All you need to do is to install it on your Chrome web browser and that's it. You are all set to start your recording and once you're done, you can immediately save your screen recording to your computer. You can even publish it directly to YouTube or upload it to Google Drive.
Pros
Easy to use, no additional software download or installation required
Configurable user options – you can change or update your preferred settings such as the screen resolution, frame rate, audio input/output (microphone or system audio), notifications, etc.
Features two main screencast modes – capture tab or desktop (experimental)
You can directly save your recording to your computer as a WEBM (.webm) or VP8 (.vp8) file
Does not require any specific script or plugin like Flash, Java, etc.
You can directly play your recorded video (screencast) on your Chrome web browser
You can also upload the video screen recording directly to YouTube or Google Drive
Cons
It does not have a built-in editor so you cannot trim those unnecessary clips from your video screen recording, you cannot also insert some captions
Not ideal for recording games, webcam chats and videos – the result of the recording would be too choppy
Discussion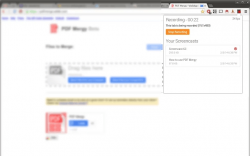 Screencastify is definitely great for those who are looking for a simple screencast tool that they can use anytime without having to install anything on their computer. It is also very easy to use. Just install the extension on your Chrome browser and after which, you may opt to change or retain its default settings. Keep in mind that this tool can record videos with the highest resolution that your screen can provide. It can also record your screen with a maximum frame rate of 25 fps. It may not be too ideal for recording games and videos but it's very suitable for recording tutorials. You can also use this tool to create demo videos for your software or apps.
To get started, simply click the Screencastify icon which is located on the right side of your browser's omnibar. You will then be prompted to select your preferred mode – capture tab or capture desktop. If you choose capture tab, then you will be able to capture whatever it is that is happening on your current tab. If you choose capture desktop, you will not only be able to capture the activities on your tab but also the activities on your desktop. However, it should be noted that this feature is currently experimental but when I tried it out, it worked fine without any glitches or lags.
Once you've selected your preferred capture mode, you may select your preferred screencast resolution, frame rate and audio input/output source. After which, simply click on the "Start Recording" button and the tool will immediately record everything on your active screen. Once you're done, just click "Stop Recording". You may also click on the "Pause" button.
As for the recorded video, it will be shown on "Your Screencasts" list. Just choose the video that you want to save on your computer. You can save the file as WEBM or VP8. If you want, you can also upload the file directly to your YouTube account or to your Google Drive.
Performance wise, this tool offers a well-rounded solution to users who wish to create simple video screen captures for their online presentations and tutorials. It basically does what it is intended to do. It's just that it could have been much better if it allows basic editing so that you can easily remove those unnecessary sections from your recordings. There's also no way for you to insert some captions. Anyways, this isn't much of a big deal since if you choose to upload your screencast to YouTube, then you can edit it using YouTube's built-in video editor.
Conclusion and download link
Screencastify for Chrome proves to be a very useful tool for those who often do a lot of quick video tutorials and online presentations. It is simple and direct plus it doesn't depend on any web script or plug-in. However, I do not suggest that you use it for recording your games and videos because the video quality could become too choppy. Anyways, if you are just looking for a quick and easy way to record your demos, presentations and tutorials, then go ahead and give this tool a try.
Price: Free

Version reviewed: 0.1.21 (Beta)

Requires: Google Chrome on Windows XP, Vista, 7, 8, Linux, and Mac OS X

Screencastify on Chrome Web Store
Related Posts