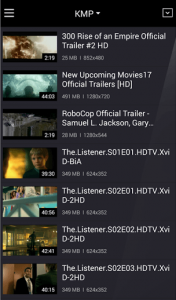 You know you hate it when the video that you are streaming online fails to load. So what's the best alternative? You download the video into your device and play it offline. The thing is, you may not be satisfied with your current media player because it lacks the features that you are looking for. If this is the case, then you might want to try KMPlayer, a distinguished media player for desktop that has finally made its way to Android.
What Is It and What Does It Do
Main Functionality
If you're not yet familiar with KMPlayer, it is basically a versatile media player that can play almost all types of media formats especially videos. It can play 3GP, AMV, FLV, MP4, WEBM, MKV, MPEG and a whole lot more. In other words, having this kind of media player is much more convenient since there's no need for you to convert your media files into a particular format just so you could play them on your media player. However, it is important to note that the current version of KMPlayer for Android still lacks music support.
Pros
Neat, well-designed, stable and responsive user interface
Can play almost any type of media and video formats – currently supports 3g2, .3gp, .3gp2, .3gpp, .amv, .asf, .avi, .divx, drc, .dv, f4v, .flv, .gvi, .gxf, .iso, .m1v, .m2v, .m2t, .m2ts, .m4v, .mkv, .mov, .mp2, .mp2v, .mp4, .mp4v, .mpe, .mpeg, mpeg1, .mpeg2, .mpeg4, .mpg, .mpv2, .mts, .mtv, .mxf, .mxg, nsv, .nuv, .ogm, .ogv, .ogx, .ps, .rec, .rm, .rmvb, .tod, .ts, .tts, .vob, .vro, .webm, .wm, .wmv, .wtv and .xesc
Well-organized media library and file explorer – sorts out your media and videos in four main categories – all media, KMP, camera and downloads
You can slow down or speed up the video speed (0.5x to 4.0x the normal speed)
Supports camera roll playback – lets you watch the videos that you've recorded using your device camera
Supports gesture based playback, fast forward, rewind and volume control
You can immediately play your videos from where it left off
Supports subtitle text encoding
Configurable user options
Cons
The Android version of this media player still lacks music support – it cannot play your music files such as your audio recordings and downloaded songs
You cannot create playlists for your videos
There's no built-in search tool and you can't view the media files in compact list mode
Requires Android 4.0 and up
Discussion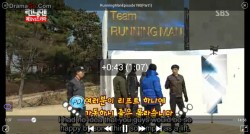 KMPlayer works like any media and video player but what makes it more distinguished from the others is the fact that it can play almost any type of media format (particularly videos) so you don't have to convert the file just to play it on your media player.
Aside from this, this media player also flaunts a beautiful, neat, stable and responsive user interface. It also consists of features that you can't usually find on your device's native video player. Like, for example, this app enables you to adjust your video's playback speed. It also supports gesture based controls so it makes it easier for you to fast forward, rewind or adjust the volume level of your videos.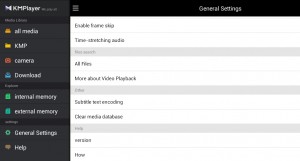 Upon launch, you can immediately notice the app's sidebar or side panel. In its side panel, you can see three sections – the app's settings, media library and explorer. The media library is where you can see all of the files that are supported by the media player. It is also where you can find the videos that you've recorded using your device camera as well as the videos that you've downloaded online. As for the explorer, it is where you can browse for particular files and edit their file names and extensions. You can also sort out your media files and transfer them into other folders. As for the settings, it is where you customize the media player's settings according to your preferences. To minimize or hide the sidebar, just swipe it back to the left side of your screen.
Functionality wise, KMPlayer proves to be as reliable as ever. I like the fact that it offers a lot of features for video playback and you can even lock the video so that the next time you load the app, you can immediately play the same video from where it left off. This makes it very convenient for you to watch and replay your favorite scenes. It should also be noted that this media player supports subtitle text encoding.
While I don't really have any serious issues with the Android version of KMPlayer, I do feel that it's lacking a couple of essential features like a built-in search tool and a brighter theme. It also lacks support for playing music files so right now, you cannot use this app to play your favorite songs and audio recordings. You cannot also organize or sort out your media files and videos into playlists.
Conclusion and Download Link
KMPlayer is a reliable media player that is worth checking out. It may not be the best out there but it definitely flaunts a beautifully designed user interface that is user-friendly, glitch-free, responsive and very stable. It also supports a wide selection of media file formats, particularly videos, so it is very suitable for users who likes to download and watch movies while on the go. Anyways, if you think that KMPlayer isn't for you, you might as well check out our list of best free video players for Android.
Price: Free
Version reviewed: 1.0.1
Requires: Android 4.0 and up
Download size: 11MB
Related Posts