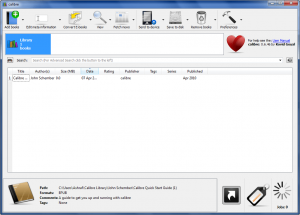 With the recent release of the iPad, the topics of e-books have come to center stage. To put it simply, the e-book industry is (still) suffering from an identity crisis – there are no set e-book standards such as e-book reader, e-book format, etc. Truly the people that suffer from this lack of direction of the e-book industry are us, consumers. Which reader to buy? Where should I buy an e-book? Will the e-book I purchase come in a format that will work on my reader? What if I decide to use a different reader, will it work on there? Well, those questions – and more – are yet to be fully answered because there is no answer as of yet. However, if you are an avid e-book user, you can mitigate the lack-of-congruency in the e-book industry by using Calibre, your one-stop-shop (literally) for e-book management.
Calibre is a software that helps you manage your e-books. With Calibre you can do things like catalog e-books; convert e-books; view e-books; edit the metadata of e-books; download news articles from hundreds of websites (in English and other languages) or "custom sources" (i.e. feeds from websites that you must input manually) and convert them to e-books; and "talk" to various e-book readers to easily import/export e-books from/to the devices. (One thing Calibre won't do, however, is read DRM protected e-books (not Calibre's fault, mind you). Calibre can, though, still manage the DRM protected e-books for you.)
These are the input and output e-book formats supported by Calibre:
Input Formats: CBZ, CBR, CBC, CHM, EPUB, FB2, HTML, LIT, LRF, MOBI, ODT, PDF, PRC, PDB, PML, RB, RTF, TCR, TXT

Output Formats: EPUB, FB2, OEB, LIT, LRF, MOBI, PDB, PML, RB, PDF, TCR, TXT
These are all the e-book devices supported by Calibre:
SONY PRS 300/500/505/600/700/900, Barnes & Noble Nook, Cybook Gen 3/Opus, Amazon Kindle 1/2/DX, Longshine ShineBook, Ectaco Jetbook, BeBook/BeBook Mini, Irex Illiad/DR1000, Foxit eSlick, PocketBook 360, Italica, eClicto, Iriver Story, Airis dBook, Hanvon N515, Binatone Readme, Teclast K3, various Android phones, and the iPhone.
The one thing to note is that Calibre does not explicitly support the iPad (yet), but it does support the ePub format, which is the e-book format iPad uses. So, if you are an iPad user, instead of having Calibre take care of all the "talking" with the iPad, you will need to use the Save to disk function of Calibre to export e-books to your computer's hard drive then manually transfer the files to the iPad, or save the e-books directly to the iPad's hard drive if you allow the iPad to be treated as an external drive when connected to your computer.
Here is a short 9 minute video where the developer demos Calibre showing its major features (I suggest viewing the video in full screen to see it in best quality):
One of the best parts about Calibre is that it is cross platform – it works on Windows, Mac OS X, and Linux. (Plus it is open source.)
So, what are you waiting for? Go download Calibre and ease your e-book pains today. You may grab Calibre from the following links:
Version Reviewed: v0.6.46
Supported OS: Windows XP/Vista/Win7 | Mac OS X | Linux
Download Size: 28.4 MB for the Windows version
Calibre homepage [direct download – Windows version]
Related Posts