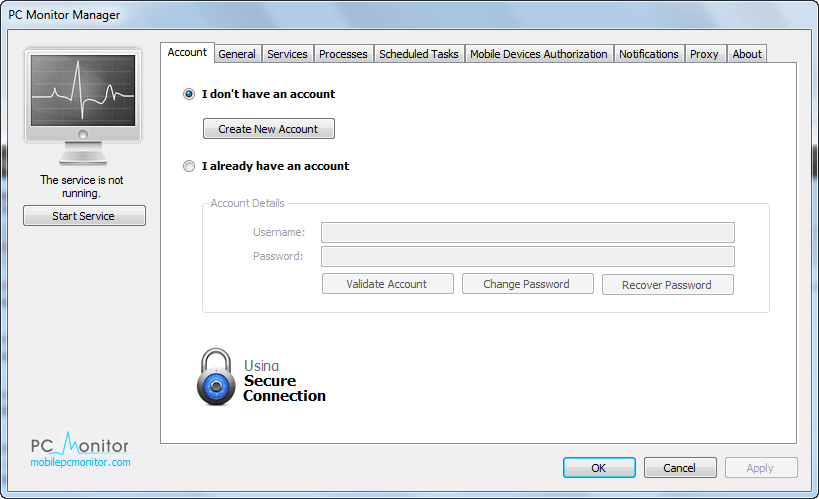 Ever seen those OnStar commercials that show people being able to control their cars from their phones? Well PC Monitor is a program/app that is similar… except it is for your PC. PC Monitor allows users to monitor and control their PCs from
Android devices
iPhone
iPad
iPod Touch
Depending on which version of PC Monitor (Lite or Full) you have, PC Monitor allows you to
Monitor:

View the status and uptime of all computers
View the current CPU usage
View the current available memory
View the local hard disks status
View the services status
View running processes
View the scheduled tasks status
View all logged in users (local and remote)

Send Commands:

Start, pause, continue and stop a service
Kill a process
Start and stop a scheduled task
Log off any logged in user (local or remote)
Restart, shutdown, power off, suspend or send the computer into hibernation
Mobile device authorization for system commands – only selected authorized devices on your account can be allowed to send system commands
PC Monitor works by having you download a program onto your PC and download an app on your device. Both the PC program and the device app communicate through a server  managed by the developer of PC Monitor; the mobile device app sends the commands and the computer program executes the commands. By default PC Monitor allows users to monitor up to ten PCs at a time but if you want to monitor more than ten the developer is willing to help you setup your own server which you can then use to monitor as many computers as you want.
PC Monitor runs as a service on your computer; it automatically starts on computer boot so you don't have to worry about losing access to your computer if you use PC Monitor to restart it.
To use PC Monitor you are required to register an account, but registration is free. Additionally, all communications (between PC program, server, and device app) is over HTTPS (encryption) so your data should be secure. Be warned, though, the developer has not defined an explicit privacy policy nor has he/she made any comment on how privacy is handled on his/her website. However, I contacted the developer about privacy concerns and was told PC Monitor respects privacy. Here is what the developer told me:
We will publish on the web site as soon as possible details about what data is gathered by the application. No personal user data is collected or stored in our servers. All the data required by the application (such as the state of the computer, services state, running processes) is stored temporarily in our server with the sole intend of displaying this information on the mobile device and it is not stored in our database.

The only thing we store is the user name, email address, user account and password. Nobody has access to this information and that includes our staff – it is used only for authentication.  As well, we will never share the user's account information or email address with anyone. We are willing to expose all our PC Service code for inspection if required.

The communication between the PC and our server and from our server to the mobile devices is secure, we use HTTPS only. This has caused some delays for us in releasing the application because we had to get the export certificate from the US Government but I think it was the right thing to do as the security of our users it's important for the success and the reputation we are trying to build.
The PC part of PC Monitor is free and available at the developer's website. The app part of PC Monitor for Android has a free (Lite) and a paid (Full; ~$5.32) version. The difference between PC Monitor Lite and PC Monitor Pro is as follows:
PC Monitor Lite

View PC uptime, CPU, memory, hard disks, services, running processes, schedule task, and logged in users
Restart, shutdown, stand by, and hibernate PCs

PC Monitor (Full)
Everything PC Monitor Lite can do plus start/stop a service, kill a running process, start/stop a task, and log off logged in users
The app for iOS is not officially out yet, but it has already been submitted to Apple so it is just a matter of time until it is available. The developer has informed me for now only a paid version will be available to iOS devices but they are thinking of releasing a free version in January 2011. (Users can also expect a Linux/Unix version of PC Monitor to arrive in January 2011.)
Now, PC Monitor is a fairly new product so it may not be 100% bug-free. (For example, I am having trouble getting it to connect my Android phone to my computer while others have got it to work flawlessly). So you may not want to jump on this program/app right away – you may want to wait until it matures more. However, this is definitely one of those programs/apps that you want to keep your eye one.
You can grab PC Monitor from the following links:
Current available version: v1.0 Build 18B55

Supported OS: Windows XP/Server 2003/Vista/Server 2008/Win7, Android OS, and iOS 4.0 and higher

Price: Free or $5.32

[Direct download – 32-bit edition]

[Direct download – 64-bit edition]

[Android market link – Lite edition]
Related Posts