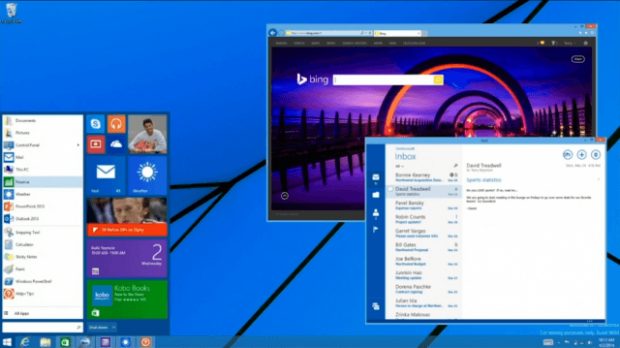 At its Build developer conference, Microsoft officially announced Windows 8.1 Update and its new features, many of which are designed to make using the OS easier with a mouse and keyboard. But what won't be making it into the Windows 8.1 Update that's set to come out next week is probably one of the best features the company unveiled.
Microsoft is bringing back the Start Menu in a future Windows 8.1 update. To be clear, Start Menu won't come back in Windows 8.1 Update, which is set for next week; rather, it will come back in a future update. We don't know the exact date the Start Menu update will be released but we do know it is coming, eventually.
The new Start Menu is a fusion between the traditional one found on Windows 7, and Windows 8's Live Tiles. The result is actually quite nice as it retains the familiarity of pre-Windows 8 and the functionality that comes with having Live Tiles.
Another neat feature that's set to come out in a future update is the ability to run Modern-style apps in the desktop environment, complete with their title bars and window options. Those two features combined means that you could theoretically stay and do everything from the desktop, something that many users will surely appreciate.
Microsoft didn't give a timeline for when to expect these features, but it wouldn't be too surprising to see them before the end of the year.
[via Ars Technica]
Related Posts