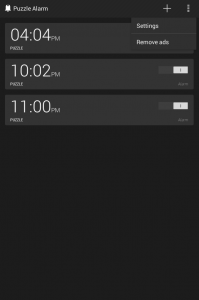 Lucky are those who can easily wake up on time for there's no need for them to set up a tricky alarm. However, this is not always the case especially if you are a person with a crazy sleep cycle. No matter how many alarms you set, all it takes is for you to press that snooze or dismiss button and all of your precious efforts to wake up early is wasted. Well, perhaps all you need is a trickier alarm clock app like Puzzle Alarm Clock.
What Is It and What Does It Do
Main Functionality
Puzzle Alarm Clock is an alarm clock app for Android that features a clean and organized alarm system. What sets this app apart from other alarm clock apps is that it offers various methods to make sure that you will really wake up. So apart from its user-friendly card-based layout, it also features a wide selection of customizable options which includes mini-games, tricky tasks, wake-up helpers, custom alarm sounds and a whole lot more.
Pros
Easy to use, easy to configure
Neat and organized user interface – features a card-based layout
Customizable alarm clock settings – you change or update the alarm name, repeat mode, sound settings, dismiss mode, snooze, wake-up helpers and app after alarm
Features four options for dismiss mode with difficulty levels that ranges from easy, difficult and hard – normal, puzzle, shake, scan QR code and scan NFC tag
If enabled, the app's wake-up helper will automatically check if you're already awake after you turn off your alarm
You can choose which app to open right after you turn off the alarm
Cons
By default, the said app only features a dark theme – it would be nice if the app would also offer a lighter theme
The volume level of the alarm cannot be locked
Discussion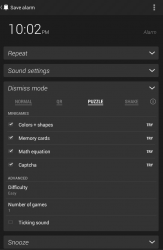 Puzzle Alarm Clock works like any other alarm clock app. You set the alarm and it will ring during a specified time. However, what makes this app different from others is that it features various methods to make sure that you won't oversleep. So instead of providing you with the usual dismiss and snooze buttons, the said app will challenge you to solve some puzzles as well as to accomplish some tasks (ex. shaking your device repetitively, etc). In other words, there's no reason for you to procrastinate. If you fail to do the tasks and puzzles, the alarm will continue to ring so you are left without a choice but to get up.
The way how this app works is also very simple. Since it flaunts a card-based layout, you can easily figure out its basic settings and controls. By default, the app will give you two default alarms that you can modify or update. You can also create more alarms by pressing the plus icon. There are no limits to the number of alarms that you can create and each alarm is independent from each other. To customize each alarm, just tap the alarm that you want and then update its corresponding sections. In the dismiss mode, you can choose as to whether to dismiss the alarm via normal mode or by solving a set of puzzles. The puzzles are basically made up of four mini-games that lets you solve some random color and shapes, memory cards, captcha and math equations. You can also opt to dismiss an alarm by scanning an NFC tag or QR code.
Other than this, Puzzle Alarm Clock also features a function called wake-up helpers. This function is basically intended to check if you're fully awake. If you don't tap this notification within the next five minutes, the alarm that you've set will automatically resume.
All in all, I can say that this app is quite effective especially if you find it difficult to wake up early in the morning despite of having multiple alarms. The best thing about this app is that its alarms are not that easy to dismiss or snooze so you'll have no excuse. You cannot just turn off the alarm whenever you want unless, of course, you intentionally set it to normal mode.
While I don't really have any serious issues with this app, I did notice that sly users can still cheat by turning off the alarm volume so it would be great if the app would automatically lock the alarm volume as soon as the alarm is turned on. It would also be great if this app would allow its users to freely switch between dark and light theme. It should also be noted that Puzzle Alarm Clock is ad-supported but if you don't mind, you can pay to switch to its ad-free version.
Conclusion and Download Link
Puzzle Alarm Clock is a great choice for users who wish to have a more reliable and effective alarm clock app that is not that easy to dismiss or snooze. What I like most about it is that it won't let you cheat in one way or another so you have no reason to wake up late and put the blame on your alarm. So if you still haven't tried this app, go ahead and check it out.
Price: Free
Version reviewed: 2.0.31
Requires: Varies with device
Download size: Varies with device
Puzzle Alarm Clock on Play Store
Related Posts