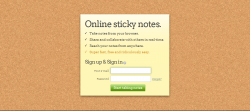 Have you ever encountered a situation in which you need to quickly write down some important info? Like, for example, your contact's email address or phone number. Well, this wouldn't be a problem if you always carry some sticky notes but what if you don't have any? If this is the case, then you might as well use Listhings – a web-based sticky notes app that you can load on any web browser.
What is it and what does it do
Main Functionality
As I've already mentioned, Listhings is a web-based application that you can readily use to create and store all sorts of sticky notes. With Listhings, you can create three types of sticky notes – checklists, text notes and picture notes. You can also sort out your notes and place them on separate boards or online canvas. Aside from this, the said web app also supports user collaboration so you can easily share your notes to your friends as well as to your colleagues at work.
With this web app, you can:
Create sticky notes and place them on your online canvas
Share your online canvas to other users (user collaboration)
Customize and edit your sticky notes
Download or export your notes to your computer
Access your notes on any device or computer
Pros
Easy to use, no-frills UI
Customizable settings and options
Features two canvas designs – khaki and denim black
You can customize your sticky notes by changing its format and layout – ex. background color, size, position, text style, etc.
You can create multiple notes on different online canvases
You can share your notes or online canvas (ideal for team-based projects, brainstorming and user collaboration)
Cons
You can't rotate or tilt your sticky notes
You can't share notes separately – if you want to share notes, then you'll need to share the entire canvas
You cannot attach links, documents and other files to your sticky notes
You can only upload up to 20 images
No offline support
Discussion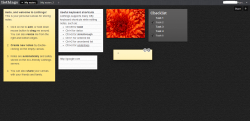 To use Listhings, the first thing that you need to do is to create an account. Registration is free plus there's no need for you to validate your registration. Just provide your email address and password and you're all set to create, store and share your notes. There is also no need for you to download any additional plug-in or browser extension. What's also great about this web app is that you can use it on any web browser.
After logging-in to your account, the first thing that you can notice is the web app's default canvas. In the default canvas, you'll see a quick guide as to how to create, edit, organize and share your notes. To create a new note, just double-click on an empty canvas and then click the wrench icon to change its style or color. If you want, you can also opt to click the small plus button at the top-right corner of your canvas to create a particular type of sticky note. With Listhings, you're allowed to create a checklist, a picture note or a plain text note. Apart from this, you can also save your notes in multiple boards or online canvases so you can separate your cooking notes from your work notes, to-do lists, etc.
Another thing that I like about this web app is that it supports note sharing and collaboration. Therefore, you're free to invite others via email to view and add notes to your online canvas. Such feature can be quite handy especially if you're involved with team-based projects or group works. You can also opt to share your online canvas to gather ideas or opinions for a certain event or occasion.
All in all, I can say that Listhings proves to be quite useful especially if you're the type who likes to jot down notes. I also like the fact that it is simple and easy to use plus it doesn't flaunt a lot of unnecessary elements. Its just that it could have been much better if it would allow its users to share their notes separately instead of sharing the entire canvas. It would also be great if it would add more features like the ability to attach links and other sorts of file to each note. Other than this, I don't really have any serious concerns with regards to the overall functionality of this web app. It does what it's intended to do – just don't expect that it would go beyond that.
Just keep in mind that free users are only allowed to upload up to 20 images. If you want to upload more images, you'll be required to upgrade to Listhings Pro.
Conclusion and download link
If you're looking for a paperless alternative to writing down notes, I would definitely suggest that you try Listhings since it's easy to use plus it requires no additional installation. Just bookmark its page to your web browser and you're all set to use it whenever you want regardless if you're at work or at home.
Price: Free, Pro – $2.50/month

Version reviewed: N/A

Requires: Works on any web browser (Chrome, Firefox, Safari, Opera, IE, etc.) on any desktop operating system (Windows XP, Vista, 7, 8, 8.1, Mac OS X, Linux, etc.)

Related Posts