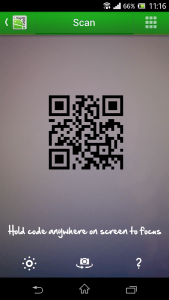 There may be lots of decent QR code scanners out there but not all of these apps can provide you with all the tools and features that you're looking for. Some apps can only scan QR codes and barcodes. There are also those that can create QR codes but lacks the ability to manually decode a saved QR image. In other words, you'll need to test a bunch of apps first before you can find the one that would best suit your needs. Now, let's see if QR Droid can live up to your expectations.
What Is It and What Does It Do
Main Functionality
QR Droid is apparently a QR code and barcode scanning app for Android. However, what sets it apart from other apps is that it can also read or decode your saved QR images plus it can also create a wide variety of QR codes that contains your contact details, messages, images, calendar events, application links, etc. Not only that, this app can also keep a record of your previously scanned codes. You'll also be able to share your own codes to your contacts via bluetooth, Gmail, IM, SNS, SMS, etc.
Pros
Easy and convenient to use
Very responsive and stable
Can scan, create and decode QR codes and barcodes – you can even edit and customize the appearance of your QR codes
Can use both of your device's front and rear camera
Supports both landscape and portrait orientations
You can access your previously scanned codes in its history
Configurable settings and options
Can directly decode a QR image from its web address – this means that there's no need for you to download the QR image before you can read its content
Cons
Discussion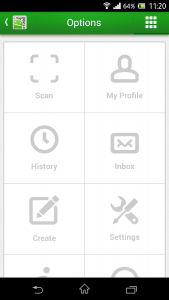 Out of all the QR code readers and scanners that I've tried, QR Droid definitely deserves a good rating since it goes beyond the basics. It can scan QR codes and barcodes, it can read or decode QR images, it can generate its own codes plus its settings and options can be customized and updated according to your personal preferences. So it's like an all-in-one application that can do almost everything that's related to QR and barcodes.
To use this app, you simply need to decide as to whether you would want to scan, read or create a QR code. If you choose scan, just launch the app directly from your app menu and then it's up to you choose as to whether you would scan a code using your device's front camera or rear camera. Just make sure that you don't hold the device too close to the code or else, the app won't be able to properly read your code.
If you choose to decode an existing QR image, just click the app's main menu (the one located on the top-right corner of its home page) then go to More > Decode Image. Search for the image that you want to decode and that's it. You can also opt to find the image directly from your file manager or image gallery. If you wish to create a code, all you need to do is to select the "Create" option from the app's main menu and then select the type of QR code that you want to generate. With QR Droid, you can create a wide range of codes. You can create business cards, web links, plain text messages, PayPal payments, calendar events, application links, GPS location, emails, etc.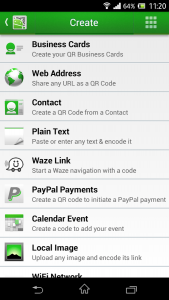 With regards to this app's overall performance, I can say that it does a very good job since it flaunts a lot of tools and options. With QR Droid, you can do a lot with your QR codes and barcodes. It is very convenient to use plus it's free from glitches and errors.
I also like the fact that it can use both front and rear camera for scanning codes. It is also very accurate and it can scan almost any type of QR code in just a matter of seconds. It is a very useful app. You can use it to instantly send links and files across various devices and platforms. You can also use it for sending quick messages and contact information.
Conclusion and Download Link
I don't really have any serious issues with this app. It functions well, it is very reliable and convenient to use plus it offers a lot of features that you can't easily find on other QR scanners and barcode readers. You can use it whenever you want and take it wherever you go. So if you're in need of a very dependable QR and barcode scanning app, go ahead and try QR Droid.
Price: Free
Version reviewed: 5.5.0
Requires: Android 2.0 and up
Download size: 11MB
Related Posts