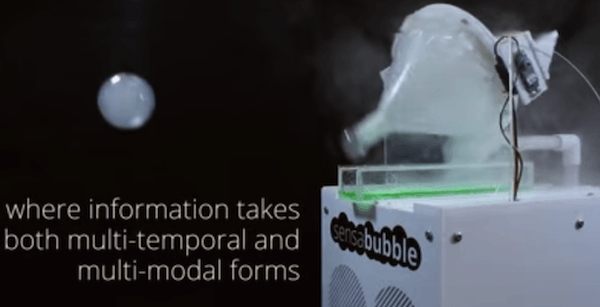 I understand digital scent technology but I never expected it would go further. Who thought that scent could be used to deliver notifications? Apparently, a university team made a machine that could give off colored and scented bubbles to notify a person that there's a new e-mail.
This seems a useless invention but I want this for myself. I don't want to hear chimes and notifications anymore. I just want to smell and see bubbles. Sounds like a dream? It's possible.
A team from Bristol University made this SensaBubb. It's a "chrono-sensory mid-air display system" that releases soap bubbles and scent. It will also project a color or display.
Human-Computer Interaction in the Interaction and Graphics group professor Sriram Subramanian said:
"The human sense of smell is powerful, but there are few research systems that explore and examine ways to use it. We have taken the first steps to explore how smell can be used to enhance and last longer in a visual object such as a soap bubble."
The idea if for the SensaBubble to present information in various layers and hit different senses. For this one, it's the sense of vision and smell that will be used for what the team calls "chrono-sensory experiences".
I can't say this is really useful but I like the idea. I also don't think this will sell among individuals and for the homes but I can imagine this being beneficial in schools, universities, and museums for project that require visuals and smell.
The Bristol University team will present the SensaBubble in Toronto, Canada at the Association for Computing Machinery's Computer Human Interaction conference this coming week.
[via The Guardian]
Related Posts