Over the past few years Google has been offering fonts for web developers to use on their sites. Google has a vast collection of beautiful fonts and all of them are free and open source (so to speak). Few people know that you can download these fonts for use in Word or LibreOffice Writer. There are many advantages to using Google fonts, the biggest reason being security. There are a lot of fraudulent and malware riddled sites offering you fonts, but with Google you have no need to worry.
Get Fonts with SkyFonts
Fonts.com and Google have partnered up to bring you a world of fonts in safe, simple and secure manner. SkyFonts is a free programme that syncs all your favorite Google Web Fonts directly to your Mac & PC.  SkyFont can be download here.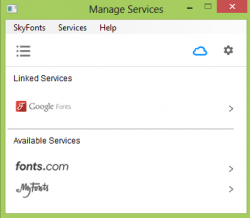 As you can see the layout of SkyFont is very simple and requires minimal setup on your part. All you need to is click on Google Fonts and select "Find Google Fonts on Fonts.com" and you will be taken to Fonts.com to download your fonts.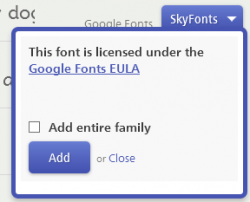 You will prompted by a dialogue showing you all the Google Fonts available. When you find one that you like simply click on the blue "SkyFonts" button and choose add.  Once you wait a few minutes the fonts will appear in SkyFonts client and be auto-magically installed on your computer.
You can further extend your fonts with other SkyFont services. Fonts.com offers a free plan but you are limited by the fonts available to you.
Let us know if you find any super-cool fonts. Happy hunting.
Related Posts