The MS Office 2010 office suite packages, such as Word and Excel, have a few image editing options. Among them is a cropping tool with which you can cut out areas from your document pictures without any image editing software. The cropping tools are flexible, and at least comparable to what you might find with standard image editing packages.
Open a Word document, click the Insert tab and Picture. Then open a suitable image to crop, and select Crop from the Format tab. That should add a cropping border to the image as below.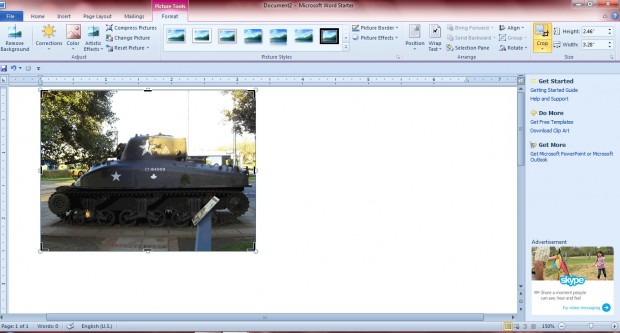 To crop the image, you should click and drag any of the four corners inward.  The translucent grey area shows the area cropped out of the image as in the shot below. Then press Return to remove that grey area from the image.
To crop sides of an image more equally, you should hold the Ctrl key as you crop the image. For example, pressing the Ctrl key as you drag the center cropping handles on either side crops the image equally on the left, right, top or bottom sides of the picture.
Or you can crop to specific image dimensions. Right-click an image, and then enter alternative numbers into the width and height boxes at the bottom of the context menus. Beside those boxes there is also a Rotate option.
There are also additional shape cropping tools to select from. Select an image and click the small arrow at the bottom of the Crop option. Then select Crop to Shape and pick one of the numerous shapes. That will crop the image to the selected shape as below.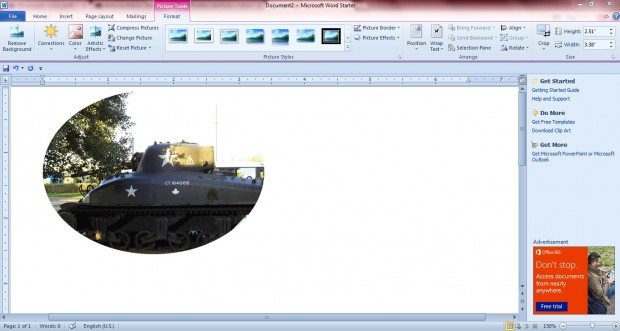 You can select the Fit and Fill options to further resize the image. Select Fit to fit the entire picture within the image area whilst retaining the aspect ratio. Click the Fill option to fill the entire area of the picture, and crop out areas outside the image area.
You can also choose specific aspect ratios for the cropped images. Select the image and then Aspect Ratio from the Crop option. Then you can pick a variety of alternative landscape and portrait aspect ratios such as 2:3, 3:4, 5:3, 3:2 etc.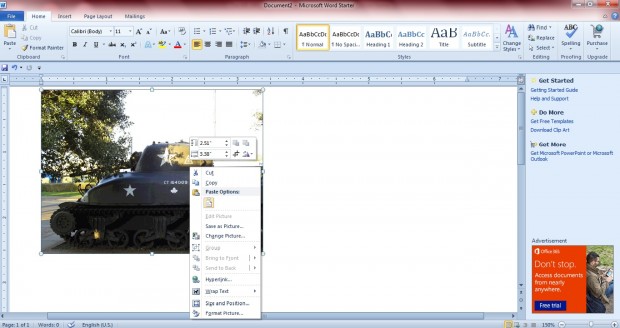 Overall, MS Office 2010 has quite a few cropping options to select from. Note that you can also crop images in Excel and PowerPoint much the same as those in Word. As such, it's not exactly essential to crop pictures with an image editing package before inserting them into MS Office documents. 
Related Posts