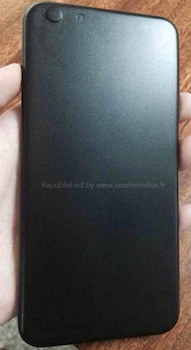 Samsung may be celebrating the success of the Galaxy S5 these days but it won't be for long once the iPhone 6 is launched. Of course, the iPhone 6 is only for the die-hard Apple fans but you know how it will be for both Samsung and Apple. Expect the two to start another battle in court once the two flagship phones are out especially if Apple sells millions of iPhone 6 this 2014.
We've been seeing renders and leaked images of the alleged iPhone 6 but the recent photos shared look very real. It's said to be an iPhone 6 dummy from a source in China but honestly, we're not too confident with this one.
Anyway, the purported iPhone 6 looks a lot like an iPod touch. The sides are more rounded. It looks even bigger so perhaps it will have a larger screen as more people want their iPhone 6 to have.
As with all other iPhone models, this one comes with a camera hole on the upper left of the back where a Sony camera could be located. There seems to be a rounder flash too.
No mention about the phone or screen size but it could be thinner could have a 4.7-inch display and measure 137 x 66 x 7.1 mm as already rumored.
[via GSMArena]
Related Posts