Google Chrome has a variety of keyboard shortcuts. However, Chrome does not include any options with which to add your own hot keys to the browser. Consequently, you should install Google Chrome's Shortcut Manager extension to customize the software's shortcut keys. With this extension, we can configure the browser's default shortcut keys, add entirely new ones and give specific websites hot keys too.
Open this extension page, and click + Free to add Shortcut Manager to Google Chrome. Once added to Chrome, click the Shortcut Manager extension button at the top right of the browser window. That opens the window below where we can add new shortcut keys to Google Chrome!
Click on Add a new shortcut, and enter a hot key in the Shortcut key text box. Do not enter anything in the URL patterns text box, and then click the Browser action drop-down list to open a variety of options as below. Choose an option for the shortcut key, such as Open a new tab, and click Save. Note that you should restart the Google Chrome browser before pressing the shortcut key. Then press your keyboard shortcut to open a new tab, or whatever it is you selected from the Browser action drop-down list.
Return to the Shortcut Manager tab page where all your custom shortcuts are shown in the box at the top left of the browser window. Click on the All shortcuts list option to show all the default keyboard shortcuts as below. You can edit the default hot keys by selecting the Edit this shortcut key option.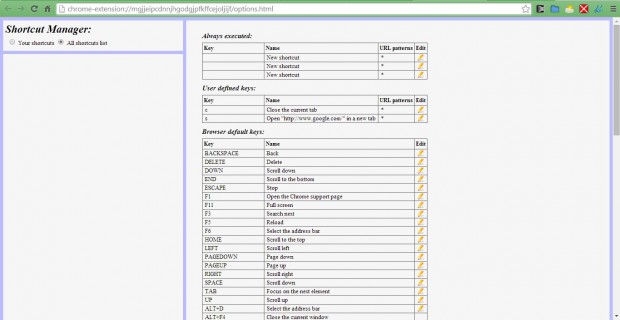 You can also add hot keys that open specific websites. Click Add a new shortcut, enter a shortcut key and then select Open my favorite page in a new tab from the Browser action drop-down list. That opens a URL text box where you should enter the full site address. The URL could be https://www.google.com, but not www.google.com. Then click Save, close and reopen Google Chrome.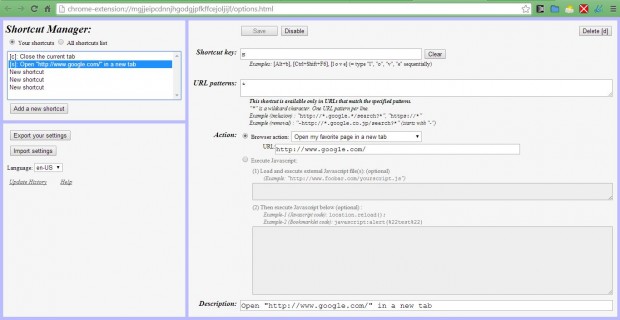 Shortcut Manager is a great extension for customizing the Google Chrome hot keys. You can add any key for a specific shortcut with this extension, and open your favorite websites without opening the Chrome bookmark manager. In addition, the extension includes options that assign bookmarklets and JavaScript to your keyboard shortcuts.
Related Posts