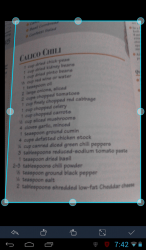 If you have a portable scanner, then it would be much easier for you to scan and save any important document. As a matter of fact, you can use a portable scanner for scanning receipts, utility bills and handwritten notes. Speaking of which, did you know that you can turn your Android tablet or phone into a portable scanning device? Yes, you can. All you need to do is to download and install an app called CamScanner.
What Is It and What Does It Do
Main Functionality
CamScanner is a cross-platform mobile document scanning and sharing app. It is currently available in both free and paid versions. With the help of this app, you can literally turn your Android device into a portable scanner. It is also very easy to use. Just scan your documents using your device's camera and that's it. You're all set to save and share your scanned document as PDF or JPEG. That's not all. This app is also equipped with other useful features such as the ones listed below:
Smart cropping and auto enhance
User collaboration
File sharing
Upload, print and fax
Password protection
Search files by tags
Pros
User-friendly, convenient
Responsive and stable
Neatly designed UI
Lots of essential tools, features and options
Built-in search function (organize your files by tags)
Supports user collaboration
Supports batch scanning – scan multiple files at once
Supports other platforms – iPhone, iPad and Windows Phone 8
Can be directly linked to your cloud storage account
Supports optical character recognition (OCR) and annotations
You can crop and enhance the quality of your scanned file
Cons
Some of the app's features are only available to its premium users – ex. extended user collaboration, extract text from image (OCR), unlimited annotations as well as the option to remove the app's auto-generated watermark
Doesn't support landscape mode
Discussion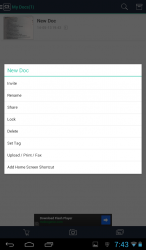 There's no doubt that CamScanner is definitely one of the best mobile document scanning apps that you can find in today's market. It is easy to use, fast, responsive and stable. Furthermore, it's feature-packed. It has all the essential tools and options that you need to scan, save and share your important documents. With the help of this app, you can scan almost anything and it doesn't even matter if you're in the office or not.
With CamScanner, you have the freedom to scan and process documents whenever or wherever you want. It's a must-have app for students and professionals. It is also great for business owners and globetrotters. Compared to traditional scanners, this app is more convenient and cost-efficient.
To use this app, you simply need to install it on your Android device and once it's installed, you're all set to scan any document that you like. You can scan your old receipts, utility bills, lecture notes, etc. You can also use this app to scan those important sections that you've found while reading a magazine or newspaper.
To scan a document, just place your device over the document or file. Just make sure that every part or section of the file is visible in the preview screen. After which, just press the "scan" button then crop and enhance the scanned image as you like. You can also opt to keep it in its original format. As for your scanned document, it will be automatically stored on your CamScanner account. Furthermore, you can do whatever you want with it. You can even share it as a PDF or JPEG file.
All in all, I can say that this app is very reliable. It's a very good application for scanning documents while on-the-go. It's just that if you're a free user, then you should be aware of its limitations. Keep in mind that some of the app's features are only available to its premium users. Even so, the free version of the app is already good enough as it is so there's really no need for you to upgrade unless, of course, you're using it for business or professional purposes.
Conclusion and Download Link
To sum it all up, the free version of CamScanner is good for casual use. Meanwhile, its premium version is more suitable for users who wish to do more than just simple document scanning. Functionality wise, this mobile document scanning app has already proven its worth. So if you still haven't tried it, go ahead and check it out by clicking the link below.
Price: Free, Premium – $4.99/month
Version reviewed: 3.3.0.20140425
Requires: Android 2.3 and up
Download size: 11MB
Related Posts