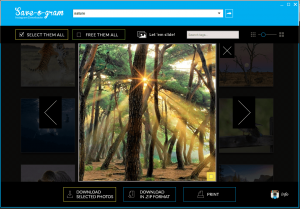 In Instagram, you can find and discover a lot of interesting photos. However, these photos are only available for viewing and sharing. In other words, you're not allowed to download the photos that you see on Instagram. If you wish to do so, then you'll have to use a third-party software or app such as Save-o-gram. Speaking of which, let's find out how this software works.
What Is It and What Does It Do
Main Functionality
Save-o-gram is a free Instagram photo and video downloader for Windows XP, Vista, 7 and 8. It's a simple and straightforward tool that you can use to download any photo or video from any Instagram account. In addition, this tool also supports batch downloading so you can easily download multiple photos at once. You can also opt to search for specific photos by tags. The photos and videos that you have downloaded will be instantly saved to your computer.
Pros
Easy to use, easy to install
No user log-in or user registration required
Neat, responsive and resizable UI
Fast downloading – you also have the option to download the photos and videos in .zip format
Supports batch downloading
You can search for specific photos and videos by user or tag
You can print photos directly from Save-o-gram
Features two simple and convenient options for viewing photos and videos – resizable grid or full slideshow
Configurable user settings and options
Cons
There's no way for a user to determine the total number of items that he or she has already selected
You cannot minimize or hide the said software to the system tray area
Discussion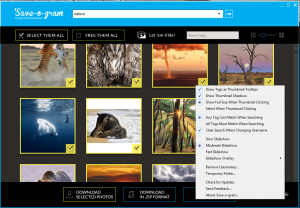 The way how Save-o-gram works is quite simple. Just download its source file to your computer and install it by following the on-screen instructions. What's good about this software is that it's bloatware-free which means that it won't trick you into installing apps that are not really related to the software that you want to install.
Once installed, just launch the software from your list of programs. After which, enter the username or link of the Instagram account that you want to load. You can also use tags to search for specific photos. Make sure to enter the correct username, link or tag in the address bar. Once you're done, press "enter" and wait for the photos to load. The average loading time will vary depending on the number of results.
Now, the next thing that you need to do is to select the photos or videos that you want to download. If you want to select all of the items shown, just click the "Select Them All" button. You can also click the "Free Them All" button to undo your selection.
Once you've made your selection, you can opt to download and save your selected photos and videos directly to your computer. You can also opt to download them in .zip format. If you want to print the photos directly from Save-o-gram, just click the "Print" icon then configure your printing preferences.
Functionality wise, Save-o-gram is a straightforward tool. In other words, there's no need for you to learn any special skills in order to fully understand how this tool works. Anyways, what I like most about this tool is that it is fast, responsive and very stable. It can load hundreds of photos in less than a minute plus you are also given the option to view the photos as slideshow. Apart from this, the photos will be saved in standard quality with a default image resolution of 640 x 640 pixels.
While I don't really have any serious issues regarding this software, I did notice that if you choose to download multiple photos, there's no way for you to determine the total number of your selected items. Aside from this, you cannot also opt to hide the software in your system tray area. Anyhow, these are just minor issues that can be overlooked and they don't really affect the software's performance as a whole.
Conclusion and Download Link
If you wish to download your Instagram photos and videos and save them directly to your PC, I would strongly suggest that you use Save-o-gram. It's a very helpful tool plus it flaunts a nice, stable, responsive and resizable UI. You really won't regret using it as it is pretty simple and straightforward. So go ahead and check it out.
Price: Free
Version reviewed: 1.4
Supported OS: Windows XP, Vista, 7 and 8
Download size: 1.05MB
VirusTotal malware scan results: 0/52
Is it portable? No
Related Posts