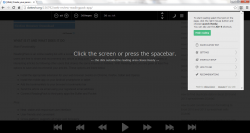 At school, students are usually taught to do speed reading as it can help improve their memory and concentration. Furthermore, speed reading can help you keep up with various instances like reading multiple notes and textbooks within a short period of time. Speaking of which, there's this simple browser tool that can help improve your reading skills. It's called Reedy.
What is it and what does it do
Main Functionality
Reedy is a free Chrome browser extension that can help improve your reading speed. It is fully equipped with features and options that are solely intended to make you read faster without any distraction. Compared to the typical way of reading, Reedy will play the text that you're supposed to read – word by word. For starters, this extension suggests that you read at a minimum speed of 300 words per minute. After that, you can gradually increase your reading speed.
Pros
Easy to use, easy to install
Nice, neat, stable and responsive UI
Configurable settings, non-obtrusive
You can pause or resume your reading task whenever you like
Features two reading modes – day and night
You can set the background transparency
You can track your progress by viewing the progress bar as well as your remaining time
You can adjust the words per minute as well as the text size
Supports offline mode, you can also paste and save the text from a local file
You can access the tool via context-menu
Cons
There's no upload file or document feature so you can't immediately read content from a local file (ex. PDF, e-books, etc.)
Discussion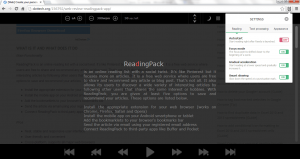 The concept of Reedy is to provide a modern approach to speed reading. If before, you only get to do speed reading by skimming your eyes through every pages or paragraph; now, you get to read straight off your web browser and just let the tool do the rest of the work.
The way Reedy works is quite simple and straightforward. So instead of showing you the entire text or article, you will only see one word at a time and each word will appear one after another and on the same spot or line. So it's like you're viewing a GIF but instead of an image, the tool will show you a series of words. Apart from this, you can also adjust the reading speed according to your own preference. However, if you're just starting out, then it would be best for you to gradually increase your speed while you start at 300 words per minute. This way, you can slowly attune your pace to your new reading style. Come to think of it, if you read too fast without even fully understanding what you're reading, then your effort to read will still be deemed as useless.
Anyways, you can start reading any text or article using Reedy by simply highlighting a section or paragraph. Once done, just right-click on your highlighted content and select "Launch Reedy" in the context menu. Your enhanced reading interface will then appear so all you need to do is to click the screen or press the spacebar. After this, the words will appear one by one and you can track your reading progress by looking at the green bar. Apart from this, the tool will also show you the total amount of time left for you to finish your reading task.
Another thing that I like about Reedy is that it features two different viewing modes – daytime and night. Both modes can be used interchangeably plus you can also change the transparency of your reading screen. In addition, this tool also flaunts a set of simple playback controls so you can easily switch to the next sentence or previous word and so on.
To sum it all up, I can say that Reedy is a really useful reading aid and it's great for individuals who are trying to improve their reading skills as well as to those who simply wants to keep up with their pile of unread stories, documents and online articles. Furthermore, this extension is really simple to use plus you can easily configure its settings according to your own preference. It's just a bummer that this tool doesn't allow its users to upload the file or document that they want to read. Instead, you get the option to copy and paste your text to its queue list.
Conclusion and download link
Reedy for Chrome is a great tool for reading. It's a must-have browser extension especially if you are someone who likes to read a lot. Its current features are great plus it flaunts a user-friendly and responsive interface that doesn't crash. So if you still haven't tried out this tool yet, better go ahead and give it a shot.
Price: Free

Version reviewed: 2.0.4

Requires: Chrome on Windows XP, Vista, 7, 8, Linux and Mac OS X

Related Posts