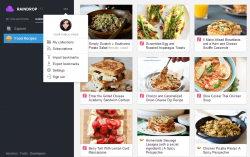 There are many different ways to organize your stuff online. It's just that you have to choose the most convenient and efficient way of doing so like saving your favorite articles and links as bookmarks. Speaking of which, this is exactly what Raindrop.io is trying to achieve. For now, let's see if it really has what it takes to convince you to replace your good old bookmarks manager.
What is it and what does it do
Main Functionality
Raindrop.io is a smart bookmarks manager that aims to provide you with a platform where you can save and organize your bookmarks into thematic collections. It's purely web-based but it has separate tools and bookmarklets for Chrome, Safari, Opera and other web browsers. With Raindrop.io, you can easily save important pages and links as bookmarks. You can also subscribe to other bookmark collections.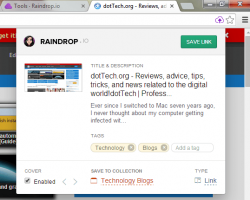 Pros
Web-based, no software download or installation required
Nice, elegant, stable and responsive UI
User-friendly, flaunts a systematic way of organizing bookmarks
Provides tools for easy bookmarking – ex. bookmarklets, Chrome extension
You can set custom thumbnails for your bookmarks
You can add tags to your bookmarks and save them as links, articles, content or photos
You can set your bookmark collections as private or public – you can even share your public collections to others via email or social media
You can subscribe to other bookmark collections – these are the collections made by other users
Features two viewing modes for bookmarks and subscriptions – list view and grid mode
You can import/export your bookmarks with ease
Cons
You cannot save the bookmarks of others as your own
You cannot edit the background image of your public page (profile)
You cannot mark any of your bookmarks as "favorite"
Discussion
Raindrop.io is definitely one of the best bookmarking management tools that I've tried so far. It's like a modified version of your browser's native bookmarks manager but instead of just placing your bookmarks into folders, it actually organizes them as visually appealing collections that you can share publicly or keep to yourself.
Speaking of which, the way how Raindrop.io works is quite simple and straightforward. First, you need to register an account and then you choose the bookmarking tool that would suit you best. If you're using Chrome, you can opt to install the web app's extension for Chrome. If you're using a different browser, then you can opt to add its bookmarklet to your bookmarks bar.
Now, if you want to add any post or page as bookmark, just go to that page and click the Raindrop.io icon (the one that looks like a purple cloud with arrow) and then fill out the required sections like the bookmark cover, tags, bookmark type and of course, the name of the collection where you want to save your new bookmark. After this, the new bookmark will be automatically added to your collections. You can view your collections by going to your Raindrop.io dashboard.
Apart from manually saving bookmarks, you can also opt to subscribe to other collections. These are the public collections made by other users that you can view and follow. Apparently, your subscriptions would be presented in a similar manner as your private and public bookmarks but instead of viewing the links on their original source, you get to view the content of the bookmarks directly on Raindrop.io. The only thing that I don't like about this feature is that you cannot save the bookmarks as your own and add them to your personal collections.
Functionality wise, I can say that Raindrop.io is really good. It's even way better than your browser's default bookmarks manager. I also didn't experience any problems while using it plus it flaunts an elegant and modern-looking user interface with two default viewing options – list view and grid mode.
Even so, I still think that its current features could be polished more. Like, for example, it could add new options for customizing the profile page, adding bookmarks to "favorites", etc.
Conclusion and download link
Needless to say, this web-based bookmarks management tool offers something that you can't obviously get if you stick to using your browser's default bookmarks manager. It can also help you organize your bookmarks in a more efficient manner. So if you want a better way to view, manage and share your bookmarks, I would definitely recommend that you check out Raindrop.io.
Price: Free

Version reviewed: N/A

Requires: Works on any browser (ex. Chrome, Firefox, Safari, Opera, etc.)

Related Posts