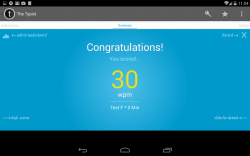 There are lots of free typing tests that you can take online but most of them are going to gauge you as you type on a tactile keyboard. Now, what if you want to find out how fast you can type via on-screen keyboard? Is there any test that you can take to determine whether you can properly type on your Android tablet or smartphone? Actually, there is and it's called Typist.
What Is It and What Does It Do
Main Functionality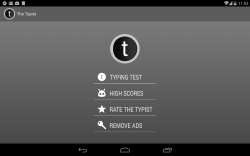 Typist is a free typing test for Android tablets and smartphone. This app is basically comprised of ten different types of typing tests. The duration for each test can last for 1 min to 3 minutes and as soon as the timer ends, you'll immediately find out your average typing score in WPM (words per minute). So basically, all you need to do is to type each and every word in the given paragraph. You also need to make sure that you can type the words correctly by carefully identifying the proper word order, punctuation and capitalization. Once you get your result, you can also opt to share and post it on the app's leaderboard.
Pros
Easy to use
Features a total ten different typing tests – each test can be taken within the duration of 1 minute, 2 minutes and 3 minutes.
There's no limit to the number of tries that you can take
You can submit your typing test score to the app's local and public leaderboard
You can view the detailed summary of your typing test so you'll know your actual WPM (words per minute score), accuracy percentage, characters per second, worst letters and total number of errors
You can view and compare your previous and current test results
Customizable settings and user options
Supports both portrait and landscape mode in tablets and portrait mode in Android phones
Cons
Lacks support for social sharing
Needs to add more variety to the type of tests that one can take – like, for example, a quick typing tests that emphasizes the use of your left hand and right hand as well as those that would require you to focus more on numbers, letters and punctuations
Discussion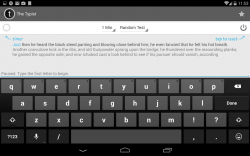 Typing via on-screen keyboard can be quite challenging especially if you're used to typing on a tactile keyboard. For some reason, a lot of users can't simply get used to typing without feeling the keys on their keyboard. This can apparently affect the way that you type and it can also slow down your typing speed.
Anyways, taking a quick typing test may not be able to help you solve your on-screen keyboard typing issues but at least, you'll know if you are actually making any progress or not. Now, this is where Typist comes into play.
Just as I've mentioned above, Typist is a free typing test application for Android. It can gauge your typing skills as you type on your Android tablet or smartphone. There are a total of ten tests that you can take using this app and each of which can be taken under a specific time duration.
To take the test, you simply launch the app then touch the button for "typing test". After that, specify the time as well as the type of test that you want to take. The timer will start as soon as you type the first letter.
After you take the test, the app will immediately give you your average typing score. Your score will be presented in words per minutes. You will also be able to view the summary of your test results. It should also be noted that this app will keep a record of your previous tests in its history. It will also prompt you to submit your score on the leaderboard.
To sum it all up, Typist can help you find out your average typing speed. By knowing your typing speed, you can decide whether to use some supplementary apps that could help improve the way you type. Anyways, the app pretty much does what it's supposed to do but it just doesn't go beyond that. I also noticed that it lacks support for social sharing plus majority of its tests are being presented in a similar fashion. It could've been much better if it has tests for emphasizing the various aspects of speed typing such as the use of numbers, capital letters and punctuations.
Conclusion and Download Link
Typist can be purely for fun but it can also benefit those who are eagerly interested in improving their typing speed as they type on their Android tablet or smartphone. Functionality wise, it's quite good enough as it is plus it works pretty well without any glitches or errors. So why don't you go ahead and give it a try?
Price: Free
Version reviewed: 1.5
Requires: Android 4.0 and up
Download size: 1.4MB
Related Posts