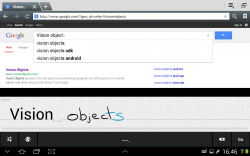 If there's something that I really can't get used to when it comes to Android, it's the fact that I have to type via on-screen keyboard. Well, there are other alternatives such as using a smartphone or tablet case with keyboard but it can make your device pretty bulky. So what would be your best option? Well, if you have an app like MyScript Stylus, then typing on your tablet or phone won't be a problem at all.
What Is It and What Does It Do
Main Functionality
MyScript Stylus is an interactive handwriting recognition app for Android. In other words, this app allows real-time input and conversion of your handwritten text into digital text. So if you think that typing via on-screen keyboard will simply slow you down, you can easily switch to MyScript Stylus and just write on your screen using your stylus or finger. The app will do the rest so there's no need for you to swipe through keys just to get the word that you want.
Pros
Very fast, responsive and accurate
Simple yet intuitive UI
Offers real-time handwriting and gesture recognition
Provides common word suggestions
You can easily correct your mistakes by doing simple gesture corrections
Supports multiple languages such as English, Spanish, Hindi, Arabic, French, German, Chinese, Indonesian, Italian, Russian, Serbian, Thai, Vietnamese, Japanese and Korean
Supports both portrait and landscape mode
Can recognize simple Asian emoticons as well as the most commonly used special characters and symbols
Great for writing lengthy paragraphs and detailed notes
Cons
None that I think of but I did observe that this app lacks support for smilies (rich emoticons)
Discussion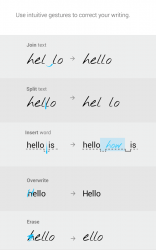 Some Android devices have a built-in support for recognizing handwritten text but what really makes the difference is the accuracy and speed of the input system. This is where MyScript Stylus gains the advantage. With this app, you can just write freely using your stylus or finger. It can immediately recognize and convert your handwritten text into digital text and it doesn't even matter if you use cursive or block letters. It can accurately recognize the words that you write unless, of course, your penmanship is really terrible.
To use MyScript Stylus, you need to activate it first. Once you've installed the app on your device, the steps will be provided to you so all you need to do is to follow the on-screen instructions. Once you've properly set and configured the app, just go to any of your messaging or memo apps then write on the space provided using your stylus pen or finger. Just make sure that you write right above the broken line.
Since this app can recognize and convert your text on real-time, you don't really need to do anything except to write whatever you want. If ever you make a mistake, just press the backspace button or simply overwrite the wrong word. You can also use corrective gestures to insert spaces, split words or join words.
In terms of speed and accuracy, I can say that MyScript Stylus is definitely one of the best handwriting recognition apps that I've tried so far. Plus, it flaunts a neat and spacious writing interface so even if you write large letters, everything will still fit in. Apart from this, the writing area will also scroll progressively as you continue to write. This makes the app very suitable for writing lengthy paragraphs and notes. You can even use this app to create documents since it can easily recognize a wide range of technical terms (ex. words with subscripts, superscripts, special characters and symbols). In addition, this app can also recognize the most common Asian emoticons.
To sum it all up, MyScript Stylus is a praiseworthy app. It's useful in various ways plus it can definitely help speed up your writing. It offers a great solution for users who still can't get used to typing on their device screen. However, do keep in mind that this app is still on beta so it will still continue to improve and polish its features. With regards to this, I have observed that the app still lacks support for recognizing and converting handwritten smilies into rich emoticons. Apart from that, the app perfectly does what it's supposed to do without any annoying bugs or errors.
Conclusion and Download Link
If you still haven't tried MyScript Stylus, I strongly recommend that you try it as it can definitely help improve and speed up the way you input your texts on Android. It also doesn't matter if you prefer writing using your finger or stylus. This app can properly recognize what you're writing. Anyways, you'll really never know how good this app is unless you try it out yourself.
Price: Free
Version reviewed: 3.2.11.m0.9 (Beta)
Requires: Android 3.0 and up
Download size: 9.2MB
Related Posts