Firefox is a browser that has a variety of keyboard shortcuts for page navigation. In addition, there are also a few add-ons for the browser which add extra keyboard navigation shortcuts. These are a few Firefox hotkeys to note for navigation.
Firefox's Default Shortcuts
The Firefox keyboard shortcut for the back/forward button is Alt + left or right arrow key. For example, to return to the previous tab page you press Alt + left arrow key. To open forward pages in the tab, press Alt + right arrow key.
In addition, the browser also has hotkeys for the scroll bar on the right of the page. Press the PgDn (Page Down) key to scroll down a page. To move up a page, press the PgUp (Page Up) key.
The NextPlease 0.9.2 Add-on
To expand Firefox's navigation hotkeys, add the NextPlease extension to the browser. That's an add-on with which you can jump to next and previous pages on search engines and other websites by pressing hotkeys. Check out this page, and click + Add to Firefox to add it to the browser.
Once you've added it to Firefox, open the dotTech website home page. At the bottom of that page there are page numbers that you can click on to open alternative pages. Press Ctrl + Shift + right arrow to open the second page on dotTech's home page. Thus, this keyboard shortcut selects the next page on dotTech's home page.
To return to the previous page on the dotTech home page, press Ctrl + Shift + left arrow. For example, if you currently have page five open on the dotTech home page the shortcut opens page four.
You can also open the very first and last pages on a search engine or website. Press Ctrl + Shift + down arrow to go to the last page of Google search results. Then you go right back to the first page by pressing Ctrl + Shift + up arrow.
To configure those shortcut keys, enter about:addons in the Firefox address bar. Then click Options next to the NextPlease add-on to open the window below. There you should select the text boxes and press the alternative keyboard combination. Click OK to close the window, and restart the Firefox browser.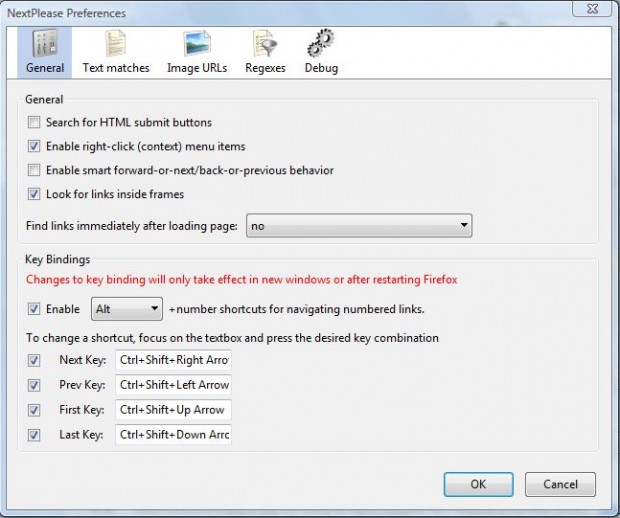 With those default Firefox hotkeys and the NextPlease add-on you can navigate website pages without a mouse. To further customize the default Firefox navigation hotkeys, add the Customizable Shortcuts extension, covered in this article, to the browser.
Related Posts