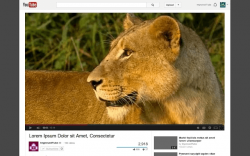 If there's one thing that I like dislike while watching videos on YouTube, it's the fact that I can't automatically hide the annotations every time I load a video. Now, if you're like me, then you'd probably wish for a better YouTube experience. This way, you can enjoy watching your favorite videos without constantly toggling on its quality, video player size, etc. Speaking of which, this free Chrome browser called ImprovedTube is set to help improve the way you load and watch videos on YouTube. Let's find out if it really works.
What is it and what does it do
Main Functionality
ImprovedTube is a free Chrome browser extension that you can use to customize the way you load and watch videos on YouTube. It's a simple tool that provides a set of custom options that overrides YouTube's default video options. So if you prefer to automatically load your videos on 720p quality, just use this extension to change or update your video viewing preferences. The changes will be automatically applied as soon as you load your next video.
Right now, ImprovedTube offers the following settings and options.
Player size – normal, start small, start expanded, fit window
Quality – Original, 1080p, 720p, 480p, 360p, 240p, Auto
Volume – Normal, 100% ~ 10%, Mute
Annotations – Normal, Hidden
Auto Play – Auto Play, Auto Play Disabled, Auto Play only on Playlists
Header Style – Normal, Fixed Header, Hidden
Subscription Sidebar – Normal, Hidden
Related Video Sidebar – Normal, Hidden
Comments – Normal, Hidden
Description – Normal, Expanded
HTML Player – Normal, Disabled
Pros
Easy to use, easy to configure
Automatically applies your video loading preferences to YouTube
Provides a wide range of options for loading and watching videos
Requires limited permissions – it can only access your data on YouTube
Helps improve YouTube's default video functions
Can automatically disable video annotations
Cons
None that I can think of but it would be great if this extension would also add a "watch mode" function – if enabled, the extension could black out the entire YouTube interface and just leave the video on (no ads, no clutter)
Discussion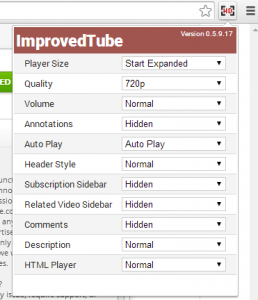 ImprovedTube is quite simple to use. Once you've installed it on your Chrome web browser, it will automatically add its shortcut icon to your browser's omnibar. If you click on the icon, you will be able to indicate your preferred YouTube default settings. By doing so, the extension can override the site's usual way of loading videos. Like, for example, you can set the video quality to 720p so the next time that you load a video, it will be automatically switched to HD. No need to click the video settings icon.
Apart from this, ImprovedTube offers a wide range of options that can definitely help improve the way you load and watch your favorite YouTube videos. As a matter of fact, it offers options for automatically hiding the video annotations as well as the comments and sidebars. It also provides an option for users to automatically play a video as soon as the page loads.
Needless to say, what this simple extension for Chrome offers is a way for you to gain more freedom in setting up the videos that you want to watch. As we all know, YouTube may have updated its options and interface countless of times but it all boils down to individual preferences. This is where ImprovedTube can help.
Functionality wise, this extension works smoothly without any signs of annoying glitches or errors. It simply does what it is intended to do. Furthermore, its settings can be configured easily so it's suitable for anyone who wishes to improve their YouTube viewing experience. It is also serves a great option for those who prefer to watch their videos in full screen or expanded mode.
Anyways, I can't really think of anything that would make this extension less useful. It's just that it could have been much better if it also has an option that would allow users to switch from normal viewing mode to "cinema mode" or "watch mode". This way, you'll have the option to get rid of all the clutter and just leave the video player on.
Conclusion and download link
If you're looking for a simple, reliable and straightforward way of customizing your YouTube video viewing preferences, I would recommend that you check out ImprovedTube for Chrome. It is stable enough for you to use on a regular basis so go ahead and check it out.
Price: Free

Version reviewed: 0.5.9.17

Requires: Google Chrome on Windows XP, Vista, 7, 8, Linux and Mac OS X

ImprovedTube on Chrome Web Store
Related Posts