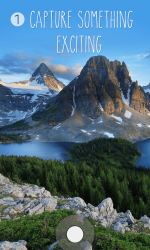 There are many ways to make your photos look more interesting. Of course, you can use filters to change or enhance the color, brightness or contrast of any image. You can also apply various effects, styles and overlays. Speaking of which, Android users are quite fortunate because they can easily edit and enhance their photos thru apps like Instagram and Pixlr Express. Now, what if you're fond of taking selfies and photo collages? Well, in this case, then having an app like phoTWO can definitely make a difference.
What Is It and What Does It Do
Main Functionality
VicMan LLC's phoTWO instant photo collage app for Android is a free application that you can use to highlight yourself in all of your photos. The way it works is quite simple. You use the app to take a picture of any amazing view (or event) and then you take a photo of yourself and place it on top of your first photo. Simply put, you're making a collage with you, yourself as the main highlight. Just like other photo editing apps, phoTWO also features tools that you can use to crop, replace, move and add frames to your photo collages.
Pros
Easy to use
Neat, stable and responsive UI
Works as a camera and simple photo collage app
Uses both of your device's front and rear cameras to take photos and create photo collages (selfie collage)
Automatically saves your photos to your gallery
Has a built-in sharing option
You can replace any photo with an existing photo from your gallery
Features basic editing tools like crop, move, replace photo and add frames (borders)
Configurable settings with geo-tagging and full screen preview support
You can directly link the app to your Facebook account
Cons
The camera function of the app lacks supports for different scene types
You cannot edit, crop or move the photo that you want to use as background
Discussion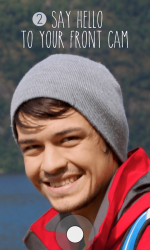 With phoTWO, you can make a collage with you yourself as the main highlight. It basically works as a camera app and a photo collage app so you can take photos and edit them right then and there. No need to download or install another app.
Speaking of which, this app flaunts a simple camera interface. You can use its camera to take a picture of anything using your device's front camera or rear camera. Apparently, it functions like your native Android camera. You just need to press its capture button and that's it. It's totally up to you if you want to save the photo as it is or use it as the background image for your selfie collage.
Functionality wise, what makes phoTWO a tad bit different from other photo editing and collage apps is that it features a collage style that centers upon you. Apart from that, it also features a set of tools that you can use to edit or modify your selfie collage. It's also very easy to use plus it's stable and responsive. It also has a built-in sharing option so you can easily share your selfie collages online via email or social network. In addition to this, this app also supports geo-tagging and full screen preview. It can also save your photos directly to your gallery so there's no hassle.
When I tried out this app, it pretty much does what it is intended to do. It also worked smoothly without any lags or annoying glitches and errors. Nonetheless, I figured out that aside from taking raw photos and creating selfie collages, there's literally nothing much that I could do with this app since it offers very limited collage layouts. I also noticed that its camera app lacks the option for switching into different scene types. Apart from this, you may be able to replace the background image for the collage but you can't edit, move or crop it in any way that you want.
Conclusion and Download Link
All in all, phoTWO is a good camera and instant photo collage app. It's just that you cannot really do much with it aside from making selfie collages but if you're the type who often takes selfies as you tour around various places, then this app is definitely worth a try. So go ahead and check it out.
Price: Free
Version reviewed: 1.24
Requires: Android 2.3 and up
Download size: 3.1MB
Related Posts