In Android, you can do a lot of cool and interesting things that you can never do with a regular phone. One good example of this is when you want to automatically turn your device screen on as soon as you pick it up from your desk or table. Sounds like an impossible thing to do? Well, not really. All you need is an app like WakeUp for Android.
What Is It and What Does It Do
Main Functionality
WakeUp is an Android application that is purposely designed to automatically switch on your device screen as soon as you pick it up from your desk or table. In other words, this app utilizes the tilt sensors in your device so it can automatically sense or recognize whether you're using it or not. Apart from this, WakeUp is a non-obtrusive application. It runs in the background so it won't interfere with whatever it is that you're doing. It should also be noted that this app is currently available in free and paid versions.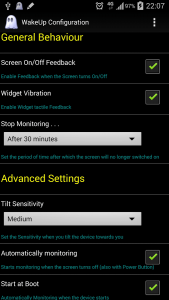 Pros
Easy to use, easy to configure
Convenient – no need to manually turn on your screen by constantly pressing the power button
Features two practical ways for automatically switching your device screen on – via widget or via automatic screen monitoring
Configurable settings – you can change or update the app's settings for screen on/off feedback, widget vibration, monitoring time, tilt sensitivity, automatic monitoring and start at boot function
Stable and responsive
Works on almost all types of Android devices regardless of the Android OS version – supports devices that are running on Android 1.6 and up
Cons
There is no option for hiding the app's notification icon
Since the app runs in the background, it could easily drain your device's battery
Discussion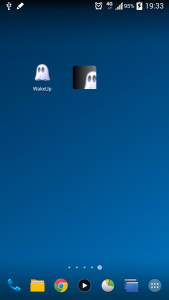 WakeUp for Android offers a nice way to put your phone or tablet's tilt sensors into action. With the help of this app, you can refrain from constantly pressing the power button just to switch your phone on and off. Plus, this app is non-obtrusive. It works silently in the background so you can continue doing your tasks.
The way how this app works is also quite simple. Once installed on your device, just launch it from your app drawer and make sure to enable it as your device administrator. After which, you have two ways to use the app. First, you can add its widget on your home screen and then you press the widget to manually turn your screen off. Second, you can opt for automatic monitoring. This way, the app will automatically switch your device screen on and off. No need for you to press any button. Just let it do its magic and the rest will follow. If you select the second option, there's no need for you to add the app's widget on your home screen.
Speaking of which, I find the second option more convenient. So as soon as your device screen turns off, you can just tilt it back towards your face and the screen will turn on. If you're using a lock screen and you decided not to proceed to your home screen, just tilt your device in a horizontal position or place it on a horizontal surface (ex. desk, table) and it will immediately switch your screen off. Apart from this, you can also configure the app's settings so that it would fit well to your preferences.
All in all, I can say that WakeUp is a very decent app. It's responsive, user-friendly and stable. I didn't encounter any problems while using it. Furthermore, the free version of the app is already good enough as it is so it is not really necessary for you to upgrade to its PRO version. The only downside to this app is that it could easily drain your phone's battery. It would also be nice if this app could add an option that would allow its users to hide its notification icon.
Conclusion and Download Link
If you think that manually switching your phone on and off is too much of a hassle, then you definitely won't regret using this app. If you have WakeUp, you can easily wake up your sleeping device without pressing any keys or buttons. It's pretty convenient plus it blends well with your lock screen so why don't you go ahead and give it a try?
Price: Free, PRO – $2.72
Version reviewed: 1.1
Requires: Android 1.6 and up
Download size: 633KB
Related Posts