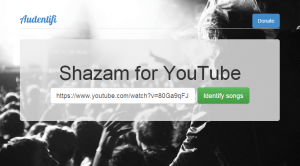 YouTube is like a vast jungle wherein you can find all sorts of songs and music videos. Some videos are properly labeled but what if you suddenly found a clip that contains a good background music that you haven't heard of? Well, you can try asking for the name of the song in the comments section but what if you don't get any quick response? Fortunately, you can use Audentifi – a free web app that works like Shazam but only for YouTube.
What is it and what does it do
Main Functionality
Audentifi is a free web application that is purposely designed to identify the songs as well as the background music used in a certain YouTube video. Plus, the way how the app works is also quite simple. There's also no need for you to register or sign up for an account. Just paste the URL of the YouTube video on the field provided by the web app, click the green button and that's it, you're done. All of the songs used in that video will be labeled and identified.
Pros
Simple and straightforward
No sign in required
Just copy and paste the link of the YouTube video with a track or song that you wish to identify
Features additional details about the song's artist/singer
You can directly share the results vie Reddit, email, Facebook, etc.
Cons
The web app can only identify songs for the videos that were uploaded on YouTube. It cannot recognize songs from other video sources such as Veoh and Dailymotion.
Since the app is still in beta, do expect that it won't be 100% accurate with its results. In some cases, the app may be fully unable to identify the songs.
Discussion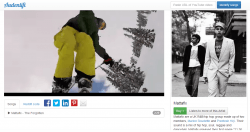 Consider this scenario. You're watching a video on YouTube and then it suddenly played a background music that you really like but alas, you don't have any clue about it. You don't even know who sang it, much less, be able to correctly guess its title. Well, you're not the only one. The good thing is you can use a simple and free web application to identify these songs. It's called Audentifi.
Audentifi is like Shazam (a mobile app for guessing the correct title or name of a song) but it's purposely designed for YouTube. It also flaunts a very simple and straightforward interface. You don't even need to log in or register. You can freely use the app as a guest user. All you need to do is to copy the URL of the YouTube video where you found the unnamed track or song then go to the web app's home page. Paste the URL on the empty link field then click the "Identify songs" button. Wait for a few seconds and that's it. The web app will give you the full title of the songs used together with the name of their respective artists/singers.
In addition, Audentifi will also give you an overview of the artists who sang the songs so you can do a quick research about them. You can even opt to buy their songs and albums on iTunes or Amazon.
Anyways, the web app is still on its beta stage so there's a probability that not all of its results are accurate. Still, it's a pretty convenient tool that you can readily use whenever you find an interesting song or background music that you haven't even heard of. It will also come in handy when you want to find out all of the tracks used in a particular movie or YouTube video.
I also tried using the web app and so far, it worked in most of the videos that I've provided. It managed to properly identify the songs that were used in the videos that I've provided but there were also times where it failed to recognize the songs. Another downside to this web app is that its scope of functionality is limited. You can't use it on other videos especially those that aren't hosted by YouTube.
Conclusion and download link
Audentifi is a cool tool. It is useful in its own way but as of now, it isn't that dependable. If you decide to use it, expect for some trial and error. Even so, it would be really nice to see this web app progress into a fully functional version. Anyways, go ahead and feel free to check it out.
Price: Free

Version reviewed: N/A

Requires: Works on any browser (Chrome, Firefox, Safari, Opera, etc.)

Related Posts