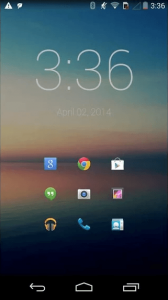 Most Android launchers support multiple home screens and widgets. While there's totally nothing wrong with having these features, some users would prefer to keep things neat and simple. This means stripping down your launcher with any unnecessary features while keeping its core elements. One good example of this is Prism Launcher, a simplistic app and home screen launcher that focuses on apps above everything else.
What Is It and What Does It Do
Main Functionality
Prism Launcher is a free Android launcher that is designed to focus more on how you access and manage your apps. Unlike other launchers, Prism Launcher only flaunts one home screen plus it showcases its simple gesture controls that can initiate basic actions such as the following:
Swipe up the home screen to access app drawer
Double tap home screen to access the launcher's main settings
Hold app in app drawer to add shortcut to home screen
Hold app in home screen to delete
Apart from this, this launcher also flaunts a built-in search bar that you can use to find specific apps or conduct a quick web search.
Pros
Easy to use
Fast, neat and responsive
Simplistic UI
Features simple gesture controls such as swipe up, double tap, etc.
Supports both landscape and portrait mode
You can use the launcher's built-in search tool to quickly search the web
Cons
Since the launcher is still in beta, there are still a lot of aspects that needs to be polished. First, it lacks supports for widgets and horizontal scrolling. There's also no option to organize or sort out your apps in folders.
Discussion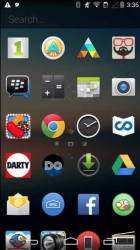 Compared to other app and home screen launchers, Prism Launcher for Android is designed to keep things neat and simple. It's a straightforward launcher that focuses more on apps. Plus, its features are basically stripped down in such a way that you won't find anything else on your home screen except for a simple time and date widget. As for the wallpaper, you can choose your own but there's only a single screen. You aren't allowed to add more.
Apart from this, Prism Launcher doesn't support widgets but you're allowed to add shortcut icons for your favorite applications. Even so, what makes this launcher interesting is the way it uses its gesture controls. Like, for example, if you swipe up the home screen, you'll be able to access the app drawer. If you double tap your home screen, you'll be able to view the options for your wallpaper, home screen, app drawer and device settings. This is also where you can make some changes to the appearance and layout of the apps that you've placed on your home screen and app drawer (ex. app icon size, text size, grid size, etc.)
Functionality wise, it should be noted that this launcher is still on its beta stage. Even so, I did not encounter any serious issues while using it. It appears to be very smooth, responsive and stable. There weren't any notable bugs or errors. It even managed to smoothly switch from landscape to portrait mode.
Anyways, what I like most about this launcher is its simplistic UI and simple gesture controls. It's not difficult to use plus you're free to customize the icons in its home screen and app drawer. I just find it a bummer that I couldn't use any widgets like the analog clock and the widget for weather. Other than this, Prism Launcher lacks support for horizontal scrolling and transitions. There's also no way for you to change the launcher's theme or sort out the apps in separate folders.
All in all, I can say that Prism Launcher is a very decent and noteworthy app and home screen launcher for Android. It may lack in certain aspects but it's already stable and responsive enough for you to use on a regular basis. If you want, you can even use it to replace your default home launcher. Plus, it would look even better if you use 500 Firepaper as your live wallpaper.
Conclusion and Download Link
Prism Launcher is suitable for users who wish to keep Android home screen neat and simple. It also flaunts simple gesture controls that you can use to quickly access and manage your apps. So go ahead and give it a try.
Price: Free
Version reviewed: 2.0.1 (Beta)
Requires: Android 3.0 and up
Download size: 801KB
Related Posts