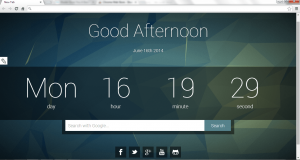 You might find your Chrome browser's New Tab page a bit dull and boring. Well, it's not like you don't have any choice. After all, you can always opt for alternative new tab pages with more advanced features, layout, design and options. Anyways, what if you want something that's simple yet visually appealing? If that is the case, then might as well try Shader, a free extension for Chrome.
What is it and what does it do
Main Functionality
Shader is a free Chrome browser extension that is purposely intended to give you a simple yet visually appealing 3D New Tab page with colorful abstract backgrounds. Once enabled, Shader will replace your default new tab page with its own. So every time you open a new tab, an elegant 3D background will be shown together with a few more essential elements such as the date, day and time. Apart from this, your new 3D New Tab page also includes a built-in search bar that is powered by Google. You can also access your favorite sites and services like Facebook, Twitter, Google Plus, YouTube and GitHub.
Pros
Visually appealing, classy and elegant
Smooth, stable and responsive UI
Flaunts basic elements such as the date, day and time
Has a built-in search bar that lets you search the web via Google Search
Features shortcut icons for Facebook, Twitter, Google Plus, YouTube and GitHub
Interchangeable 3D backgrounds – features a total of eight elegant themes with abstract backgrounds
Cons
Lacks options for personalized greetings
The shortcut icons are located at the bottom-most portion so you'll need to scroll down
Lacks option for changing the date, day and time format – ex. changing the time to 12-hour format instead of the default 24-hour format
Discussion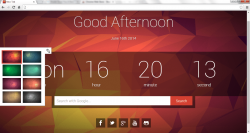 If there's one thing that I really like about Shader, it's definitely its dynamic and elegant 3D background designs. Once installed and enabled on your browser, this extension will automatically replace your default new tab page with its own 3D New Tab page. Just take note that you can only use this New Tab page on your browser's normal window, not in Incognito.
Speaking of which, the 3D New Tab page flaunts a total of eight different themes. All eight themes are presented as beautiful 3D abstract art – fire, ice, nature, sea, candy, peach, light and dark. Furthermore, the dynamic 3D backgrounds are presented in unique colors.
Anyways, Shader's 3D New Tab page isn't just purely for aesthetics as it also presents a couple of essential elements. So, as soon as you open your browser's 3D New Tab page, you'll receive a simple greeting (ex. Google Morning, Good Afternoon) together with other important details such as the current date, day and time. What's also good about this extension is that it displays time in real-time format so it will give you updates every second, every minute and every hour.
Other than this, I also find its built-in search bar quite useful although it lacks support for voice (OK, Google) commands. There are also shortcut icons to various sites such as Facebook, YouTube, Twitter and GitHub but you can't add your own shortcuts.
All in all, I can say that Shader's 3D-styled New Tab page looks very elegant. Obviously, it focuses more on aesthetics so you can't expect it to be fully-packed with tools and elements. It is more suitable for users who prefer to make their new tab pages look visually appealing rather than to pin or view their recently visited pages via bookmarks and speed dials.
Anyways, I don't really have any serious issues or concerns regarding this extension. It works fine and it is definitely suitable for regular use. It's just that I've noticed that it lacks options for personalized greetings (ex. Hello, Jane., Good Morning, John.). It also lacks options for changing the default format for the date, day and time. Apart from this, I also noticed that the shortcut icons are not that accessible. It could've been much better if they were placed a bit higher so there's no need for you to scroll down.
Conclusion and download link
If you want to make your dull and boring New Tab page look more lively or vibrant, I suggest that you try using Shader for Chrome. The extension is quite nice for it offers a variety of 3D-styled backgrounds. It is also stable enough for you to use on a regular basis so go ahead, check it out.
Price: Free

Version reviewed: 2014.6.15.0

Requires: Google Chrome on Windows XP, Vista, 7, 8, Linux and Mac OS X

Shader – 3D New Tab on Chrome Web Store
Related Posts