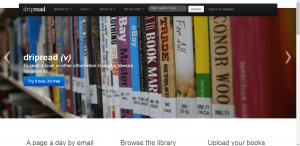 Don't you find it frustrating when you just can't seem to find the time to finish reading a good book or novel? No matter what your reason is for always failing to do so, what's more important is for you to find a way to finally get things done. Speaking of which, why don't you try using Dripread? It's a simple web app that lets you read your favorite books in bite-size installments.
What is it and what does it do
Main Functionality
Dripread is a free web app that you can use to read books and web pages in bite-size installments. With the help of this web app, you can opt to split the pages and content of your eBooks and have them delivered to you via email. The same goes for web pages. So it's like you're getting daily email digests of the eBooks and web pages that you wish to read. It can be a very convenient and practical option especially if you have the habit of frequently checking your emails.
Pros
Free to use – guest users can subscribe even if they don't register
Automatically converts your eBooks and web pages into email serializations (daily email digests)
You get daily email digests (free and unlimited subscriptions)
For registered users, you can upload your own eBooks and web pages. You'll also get your own dashboard for managing your own eBooks and web page subscriptions.
Automatically monitors your reading progress
Features a large collection of free eBooks and classic texts
Cons
The web app's user interface still needs a lot polishing
Some of the free eBooks that are available in its database don't show up well in email digests because of the missing eBook covers, images, poorly formatted text, etc.
With regards to reading the eBook within the app, there's no way for you to change the reading mode/layout
Discussion
To use Dripread, you simply need to go to its homepage and then you find the eBook that you want to read from its database. With this web app, you can find a lot of free eBooks to read. You don't even need to sign in or register just to subscribe and read these books by email. Of course, signing in as a registered user has its own perks. You can add comments, upload your own choice of eBooks, manage the eBooks on your reading list, etc. Just keep in mind that the only way to sign up or register for Dripread is through your Google account.
As I've already mentioned above, Dripread will split your eBooks and web pages into bite-size installments. This makes it easier for you to finish read a whole book or a lengthy article because you only get to read at least one page at a time. There's also no limit to the number of email subscriptions that you can acquire. You can even set the app to send you more installments even if it's not yet meant to be delivered within that particular day or time.
With Dripread, you just need to find a book then subscribe to it just like the way that you do when subscribing to blogs and sites. You just need to enter your email in the subscription box and just let the app do the rest. It will then schedule your first email digest the day after you made your subscription request. As for those who wish to serialize their own eBooks, just upload it to Dripread in EPUB (.epub) format. You can also opt to upload or fetch web pages by typing the URL of the site or page that you like.
Anyways, I find this web app pretty interesting. I like the fact that it splits the pages of a full eBook so that you can read it daily in bite-size installments. It's just that its current interface doesn't really look too appealing. Now, if only Dripread would incorporate some of the features that can be found on Goodreads (ex. user reviews, related books by author, related books by genre, user community, etc.) together with its main functionality, then it would certainly become a splendid platform for both authors and readers.
All in all, I can say that Dripread definitely has the potential to become even better. It's just a bummer that some of its free eBooks do not show up properly because of the poorly formatted texts and missing images. With regards to this, you can also opt to view the pages directly on the web app but don't expect it to provide you with advanced reading features like changing the reading layout.
Conclusion and download link
If your main goal is to finish reading all of the books that you have on your cue list, then I highly recommend that you use Dripread. However, if your objective is to simply read comfortably, then you might as well stick to your favorite eBook reader. Even so, this doesn't make the web app worth any less so you might as well give it a try.
Price: Free

Version reviewed: N/A

Requires: Google account, Works on any browser (ex. Chrome, Firefox, Safari, Opera, etc.)

Related Posts