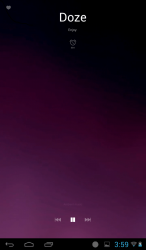 Relaxation music is good for everyone especially to those who are stressed and tired. If you are having trouble sleeping, you can also listen to some relaxing music and just let yourself go with the flow. Speaking of which, Doze is a free app that lets you listen to an infinite stream of relaxation and meditation music. Let's find out if this app could live up to your expectations.
What Is It and What Does It Do
Main Functionality
Doze is a free app for Android that lets you listen to an infinite stream of relaxation and meditation music. It's a very simple app that flaunts a straightforward yet elegant interface with an animated "dusky" background. Apart from this, Doze also supports sleep timers that you can set in fixed hour intervals.
Pros
Easy to use
Neat, stable, responsive and elegant UI
Features an infinite stream of relaxation and meditation music – there's piano, ambient music, thunderstorm, nature, etc.
Supports sleep timers – just switch on the app's sleep timer to listen to soothing music for 30 minutes to 1 hour or 2 hours.
Flaunts its relaxing "dusky" backgrounds – the app's background is animated so it changes its color themes from time to time
Basic music playback support such as previous, next, play and pause
Ideal for yoga, stress relief, studying, meditation and massage sessions
Cons
No support for landscape mode
You can't manually select the track that you wish to play
Needs more playback options like repeat and shuffle
No offline support – requires an active internet connection
Discussion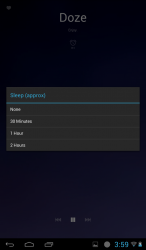 I like listening to ambient music especially when I feel so stressed or gloomy for no apparent reason. Thus, I usually spend time finding some good relaxation music on the Internet. As a matter of fact, you can find a lot of good relaxation music on YouTube. You just need to spend some time in sorting them out. Now, here comes Doze, a free app for Android that lets you listen to an infinite stream of relaxation sounds.
What I really like about Doze is that it flaunts a minimalist UI plus it doesn't have any disturbing ads. Just load the app then press the "Play" button and it will automatically play a relaxation music by random. If you press "Next" then the app will load the next track which is also by random so there's the element of surprise. As of now, the app can play different types of soothing sounds like piano, ambient music, nature, thunderstorms, etc.
Aside from its endless stream of soothing music, Doze also flaunts an impressive animated background. The background features a "dusky" theme that smoothly transitions from one particular set of color themes to another so it looks like you're staring at a dusky sky. In short, it's very relaxing and it can definitely help you achieve a calm mind.
If you're the type who likes listening to calm music while you sleep, you can also opt to enable the app's sleep timer. Its sleep timer can be set in three different time durations – 30 minutes, 1 hour to 2 hours. After that, the music will stop playing so you can calmly go to sleep without worrying when to switch the app off. The only downside to this feature is that you can't set a custom timer.
All in all, I can say that Doze is a really good app for relaxation and meditation. By listening to its endless track of soothing music, you will feel more relaxed. It can also help improve your focus and concentration.
While I don't really have any serious issues with regards to the overall features of this app, it could've been much nicer if it has more options for music playback. It's also a downer that you cannot manually select the track that you wish to listen to. It should also be noted that this app requires an active internet connection (preferably Wi-Fi).
Conclusion and Download Link
I like using Doze mainly because it has a wide variety of relaxation music and nature sounds that suits my preference. It also flaunts a relaxing background. So if you are currently searching for some good relaxation music that you can listen to while studying or practicing yoga, I would highly recommend that you give this app a try.
Price: Free
Version reviewed: Varies with device 
Requires: Varies with device
Download size: Varies with device
Related Posts