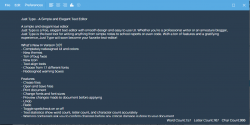 There are times when you just can't get yourself into the mood to write. You can't concentrate well. You're too distracted. Well, if that is the case, then better try to limit your exposure to things that will only distract you. Speaking of which, you can also try shifting to a simpler text editor like Just Type for Chrome.
What is it and what does it do
Main Functionality
Just Type is a free Chrome web browser application that you can use to write anything may it be a simple note, a random thought or idea or a detailed school report. In other words, it's a simple yet elegant text editor that you can use on Chrome. Furthermore, this app can run offline so it will work even if your computer isn't connected to the Internet.
Pros
Simple yet elegant UI – flaunts five color schemes which ranges from default to classic to mountain meadow, fountain blue and ripe lemon
Features a total of 17 elegant fonts, you can also adjust the text size (minimum text size is 16px)
You can create files, save files, open or print documents
Has a built-in spell checker, word counter, character counter and letter counter
You can align text to left, center or right
You can undo or redo the changes that you've made to your document
You can resize or move the text editor window according to your liking, you can also set it to full screen
Runs offline
Cons
Can only save your file in .txt format
Lacks support for bold, italic and underline
Discussion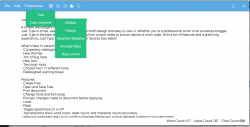 What I like most about Just Type is that it flaunts a visually appealing UI. Even its desktop and browser icon looks nice. Plus, its overlay window floats smoothly on your screen and you can even adjust its size and position according to your liking. If you want, you can also set the text editor to full screen.
Just keep in mind that in order for you to use to use this app, you need to sign in to your web browser. Once you've successfully installed the app, you can use it right away. Just go to your list of apps (see Chrome://apps) then click the app's icon. The text editor will then appear and you can start writing whatever you like.
When I tried out this text editor, it loaded smoothly without any glitches or errors. I can also say that it is very responsive and stable. It also has a user-friendly interface. The options and controls are easy to recognize. Moreover, the app is basically designed to be as simple as possible. It doesn't flaunt a lot of advanced tools for editing texts so all you get are tools for aligning text, changing the font style and text size, etc. Other than this, Just Type also flaunts a built-in spell checker. You can also utilize its text statistics tools to determine your document's total word, letter and character count. I also like the fact that this text editor supports different color schemes.
Functionality wise, Just Type proves to be a very decent tool for distraction-free writing especially if your primary focus is to write without worrying about the text style or formatting. You just write your thoughts, jot down your ideas and that's it. The rest, especially the technical aspects to your document, can be done later. Once you're done, you can immediately print your file or save it to your computer as plain text.
Speaking of which, it should also be noted that this text editor can only save your file in .txt format. It doesn't support other formats so even if you make subtle changes to the appearance or layout of your texts, it really won't matter much. With regards to this, this writing tool also lacks support for changing your texts to bold, italic or underline. Even so, it would be really nice if this tool manages to support more document formats such as ODT and RTF.
Conclusion and download link
Just Type is a suitable choice for users who simply wish for a simple, efficient and elegant-looking writing tool that they can use to write without any distractions. While its current version may not be able to support a lot of document formats, it is still worth a try. So go ahead and feel free to check it out.
Price: Free

Version reviewed: 3.0

Requires: Chrome on Windows XP, Vista, 7, 8, Linux and Mac OS X

Related Posts