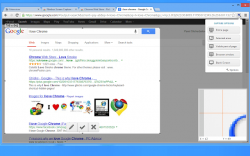 When it comes to screenshots, the Print Screen button has its limitations. Apparently, it won't allow you to take a screenshot of a page that goes beyond the visible area. This is where Nimbus Screenshot can help. Since it's an advanced screenshot tool, you can use it to screen capture a web page in many different ways.
What is it and what does it do
Main Functionality
Nimbus Screenshot is an advanced screenshot tool for Chrome with a built-in editor. With this free extension for Chrome, you can screen capture a web page in any way that you want. You can take a screenshot that only covers the visible area of the page or screen capture the entire page. You can even make custom selections and once you're done, you can edit the screenshot before saving it to your Google Drive or local storage. You can even choose whether to save the screenshot as PNG, BMP or JPEG.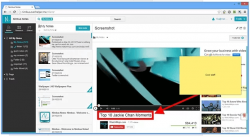 Pros
User-friendly, stable and responsive
Wide range of screen capture options – you can opt to capture only the visible area of the page, a custom area, a blank screen or the entire page
You can automatically save your screenshot to your local drive or cloud storage (Google Drive) as PNG, BMP or JPEG
Has a built-in screenshot editor with lots of tools and options – ex. crop, resize, zoom in, zoom out, insert text, draw note (annotations), undo, redo, undo all, draw line, draw ellipse, draw arrow, etc.
Customizable user options
Supports keyboard shortcuts
You can enable the screenshot option via context-menu
Cons
There's not much that I can think of but I did notice that the extension's screenshot editor requires additional changes/modifications – ex. the insert text option does not allow you to change the font style or remove the number attribution
You cannot use this tool to take a screenshot of your desktop
Discussion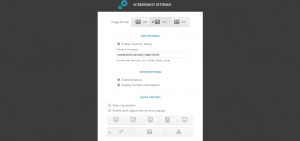 Nimbus Screenshot is a great choice especially if you want to take a screenshot of your browser's tabs and windows. Just keep in mind that this tool isn't intended to take a screenshot of your desktop. It can only work on Chrome.
To get started, install the extension on your browser first. After which, a new window will appear and it will show you the progress of your installation. Do not close this window. It is important that you wait until its progress bar reaches 100% or else, the extension won't be able to function properly.
Once you've successfully installed Nimbus Screenshot on Chrome, just go to any web page then click the extension's icon. You can find its icon on the right side of your browser's address bar. On its list of options, select the type of screenshot that you want to take. With this tool, you can capture full page screenshots. You can also opt to capture only the visible area of the page. If you want, you can also make a custom selection by highlighting the areas that you wish to capture.
Once you're done, the tool will automatically load and open the screenshot using its built-in editor. There, you will be able to edit and add annotations to your screenshots. You can also draw lines, arrows and curves. After you're done editing, just click "Done" to save the edited screenshot to your local drive. You can save the screenshot in .JPEG, .PNG or .BMP format. You can also opt to directly upload the screenshot to your Google Drive. For the latter, your user authorization is required.
All in all, there's not much that I can say about Nimbus Screenshot. It's a very good tool for taking web page screenshots. It's just that its editor still requires further improvement especially when it comes to its core tools and options. Like, for example, there's no way to remove the number attribution for drawing arrows, lines, etc. You also cannot change the font style. The rotate image option is also missing.
Other than this, Nimbus Screenshot appears to be a very decent tool that you can use on a regular basis. It's very responsive and stable.
Conclusion and download link
If you are looking for a reliable screenshot tool with advanced options, you can go ahead and try Nimbus Screenshot for Chrome. It's a great choice for capturing web and browser screenshots plus it flaunts a built-in editor. So feel free to check it out.
Price: Free

Version reviewed: 5.2

Requires: Chrome on Windows XP, Vista, 7, 8, Linux and Mac OS X

Nimbus Screenshot on Web Store
Related Posts