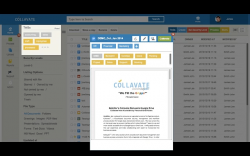 With Google Drive's current features, you can already do more than just store your files in the cloud. It's also good for collaborative projects as well as for sharing files online. Even so, what if you want to do more than just what you can already do with your Google Drive account? Well, that's what Collavate is all about.
What is it and what does it do
Main Functionality
Collavate is a Chrome browser application that you can use to make your Google Drive even more efficient to use. What it does is that it basically adds more tools and functions to your Google Drive so that you can quickly organize or sort out your files by adding tags. Aside from this, Collavate also provides tools that would allow you to design a convenient sequence for document processing and approval.
Just keep in mind that even though this web app is designed to integrate its features with Google Drive, you will still be processing your documents in a separate platform/UI.
Pros
Features a separate user interface wherein you can access and manage all of your Google Drive files
Lets you add tags to your Google Drive files and documents
Lets you generate templates for future use
Ideal for user collaboration and document process management – you can even determine the number of reviewers and sequence of approvals for your documents
You have the full authority to control the way how your files are being shared, viewed, copied, downloaded and printed
Real-time document monitoring
Also works with Google Apps
Cons
It could take a while before you get fully accustomed to the app's interface
Free users can only monitor the document activity report for a maximum of 24 hours
No offline support
Discussion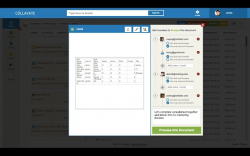 After installing the app on Chrome, you will be asked to allow its access to your Google Drive so all you need to do is to follow the on-screen instructions. After that, you will be immediately taken to the app's interface which is apparently separated from Google Drive.
On Collavate's user interface, you can find a wide range of tools and options that would allow you to efficiently manage and organize your files. For first time users, you should at least take some time to get yourself acquainted with the app's tools and features as you won't be guided by any welcome tutorial. You have to find your own way through the app's interface, but to be sure, better refer to the app's "Quick Start Guide". You can view it by clicking the dog icon at the bottom-left corner of your screen.
Anyways, Collavate basically stands for "Collaborate + Innovate". In other words, it is mainly focused on user collaboration. The good thing about this app is that it lets you organize your files by tags. Plus, you can also design an approval process for your documents or files. By submitting a document for approval, you can request others to review and edit your document before final submission. This is great especially if you're handling files like receipts, contracts, invoices, inventory sheets, etc.
Functionality wise, I can say that Collavate appears to be very responsive and stable. However, I am not that fond of its UI design mainly because it isn't as neat and user-friendly as Google Drive's UI. It also lacks offline support. When I tried to use it, it took me a while to understand what each section is meant for but on the brighter side, I like the fact that it can sort out files by tags and process documents for approval via centralized reports. Apart from this, you are also free to update or modify your default document permissions.
It should also be noted that while Collavate can work as a standalone web app, it will still require you to log in using your Google account.
Conclusion and download link
I like Collavate mainly because it flaunts a simple yet efficient document tagging and document approval system (workflow). While I am not that fond of its UI, I still find it responsive and stable enough for anyone to use on a regular basis. Just don't be surprised if it requests a lot of permissions. As for those who are interested in trying out this app, go ahead and feel free to do so.
Price: Free, Pro – starts at $2/month (per user)

Version reviewed: 16

Requires: Chrome on Windows XP, Vista, 7, 8, Linux and Mac OS X

Related Posts