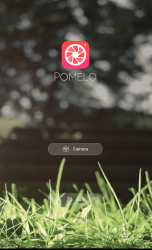 As time goes by, more and more photography apps have emerged on the market. Of course, this gives you more freedom to choose the app that would best suit your needs and preferences. As for those who are currently searching for better alternatives, why don't you try using POMELO?
What Is It and What Does It Do
Main Functionality
POMELO is a free photography app (photo editing app) for Android tablets and smartphones. The main motto of this app is to "capture, edit and inspire". Simply put, this app lets you capture and edit photos using its wide variety of stunning filters. After which, you can share and flaunt your edited photos to others via Instagram, Facebook, Twitter, SNS, email, Line, WeChat, etc. Just like Instagram, you can also edit and enhance your existing photos.
Pros
Easy to use
Very neat, stable and responsive UI
Lots of stunning filters – features a total of over 60 filters (each of which are created by professional photographers)
The filters are categorized into five main groups – Film, Pola, LOMO, Vintage and B&W
You can download more filter packs for free
Features a wide range of simple yet powerful photo editing tools – crop, rotate, enhance, temperature, tilt-shift, etc.
Instant sharing options
Live filter camera – with front camera support (you can apply and preview the filters before capturing a photo)
Configurable settings and options
Cons
Doesn't have its own user community
When searching for photos in your albums (image gallery), you cannot change the viewing layout to small or medium-sized thumbnails
Needs more tools and options for photo editing – ex. borders, flip, red-eye removal, add text, etc.
Discussion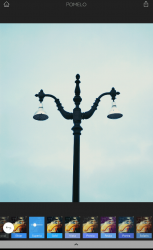 When it comes to the quality of filters, I can say that POMELO definitely has the advantage. With over 60 stunning filters in its menu, you simply couldn't ask for more. Plus, each filter is created by professional photographers so you're guaranteed that all of your photos will look as if they were taken by a pro.
Furthermore, this app also flaunts a very neat, stable and responsive interface. When you launch the app for the very first time, you'll be greeted by its welcome screen. After which, you will be immediately taken to its home screen wherein you're free to choose whether to capture a photo using your device camera or edit any of your existing photos. Speaking of which, the app supports live filters so you can apply and preview the filters right before you capture a photo. If you wish to take a photo using your phone's front camera, just press the button on the top-right portion of the camera UI to switch to front-cam mode.
Now, if you want to edit any of your existing photos. Just select the photo that you want from your image gallery and after that, apply the filter that you like. Since the app offers a wide variety of filters, just select the filter group or category that you like. If you want, you can also opt to download more filter packs from the app's "Goodies" section. Unlike other photo editing apps, POMELO offers all of its goodies for free.
Once you're done editing your photo, just share it to anyone using the app's instant sharing options. You can share your photos to Facebook, Instagram, Twitter, Line, etc. You can also configure the app to save a copy of your original photo.
Anyways, it should be noted that POMELO doesn't have its own user community so you'll still need to rely on other apps and third-party services to showcase your photography portfolio. Aside from this, I also noticed that the app lacks the option to change the viewing layout for searching images in the gallery. You can only view the photos in one layout plus when you select an album, most of the photos are blurry. Other than this, I don't really have any serious issues with regards to this app's features and functionality. It's just that it could have been much better if it has more tools for photo editing.
Conclusion and Download Link
I like POMELO for Android mainly because of the fact that it offers a vast range of impressive photography filters that you can't easily find on other photo editing apps. I also like its smooth, stable and responsive UI. Even so, this app also has its own set of flaws but before you jump to a conclusion, I would strongly suggest that you go ahead and check it out.
Price: Free
Version reviewed: 1.0.0
Requires: Android 4.0 and up
Download size: 21MB
Related Posts