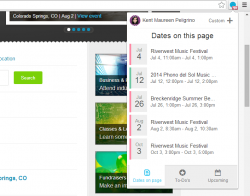 If you are someone who often relies on Google Calendar to create and manage your schedules and tasks, then you might as well check out this free Chrome extension called "Spot". It's great for scheduling events and tasks without having to go through the hassle of manually extracting the time and dates just so you could transfer them to your personal calendar.
What is it and what does it do
Main Functionality
Spot is a free Chrome browser extension. You can use it to easily schedule events and tasks in just a few clicks of a button. Simply put, this extension can automatically recognize and extract the event dates and times from any online source so there's no need for you to manually copy and paste the details to your Google Calendar. Aside from this, you can also view all of your events and to-do's through Spot's streamlined web UI.
Pros
Easy and convenient to use – you can schedule events and tasks in just a click of a button
Neat, stable and responsive streamlined UI – just visit your Spot profile to view your upcoming events, to-do's, popular activities, current weather, etc.
You can follow other streams to get the latest events and happenings in other places/locations
Automatically checks for schedule conflicts
Your schedules and events are automatically integrated to your Google Calendar
You are allowed to create custom events and tasks
Cons
Lacks support for a more flexible and customizable UI
Cannot recognize events from email invites
No support for data import/export
Discussion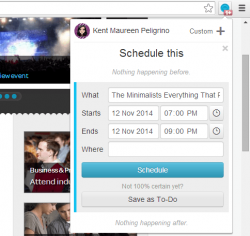 Spot is fairly easy to use. First, you need to install the extension to your Chrome browser. After which, you can test it out by following the instructions provided by its welcome guide.
With this extension, there's no need for you to copy and paste the event details. It will automatically scan the page for any possible event and if ever it finds something, you will immediately get notified. You will know if a page contains any event because the extension's icon will show a red "1+" mark.
To add an event, just click the extension's icon and then choose from the list of possible events shown. If there's a conflict in your schedule, then that particular event will be highlighted. If there's no conflict, you can simply set a schedule for the said event and that's it, you're done. If you want, you can even send a self-destructing invitation to your friends and contacts via email, Facebook, etc. If you are still unsure about the event, then you can always save it on your "to-do" list then update it as soon as your plans are confirmed.
What's also great about Spot is that it will automatically integrate the events that you've saved to your Google Calendar. If you want to receive notifications or reminders for these events, just update your event details via Google Calendar. Apart from this, you can also opt to view your upcoming events and "to-do lists" through your Spot profile.
Speaking of which, Spot flaunts a streamlined UI for its user profiles so you can efficiently view your events, to-do's and other activities in just one place. You can also follow other streams to keep tabs with various events and activities from other places.
Anyways, the said Chrome extension appears to work without any major bugs or glitches. I just noticed that it cannot recognize the event details from email invites but it had no problem recognizing the event details from other sites. It should also be noted that this date clipper doesn't have an option that will allow you to import or transfer your data to other event scheduling and management apps.
As for its web interface, I can say that it still needs to be polished more. It's neat, stable and responsive but I find it lacking in features. Like, for example, a user can't delete a particular section from his or her profile. Plus, the UI's background looks somewhat plain. It would look more elegant if it flaunts a variety of HD backgrounds that changes from time to time.
Conclusion and download link
Needless to say, Spot can definitely help you when it comes to saving event details from various pages or sites. What it offers is a hassle-free way to update your event calendar. It may have a couple of drawbacks but it's still worth a try. So, go ahead and feel free to check it out.
Price: Free

Version reviewed: 1.7.6

Requires: Chrome on Windows XP, Vista, 7, 8, Linux and Mac OS X

Related Posts