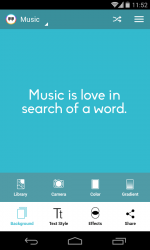 The Play Store is filled with all sorts of photography apps. Thus, it would be very easy for you to edit and enhance your photos and make them appear like they've been edited by a pro. Now, what about those who also likes to discover and share all sorts of quotes? Well, in this case, you can use an app like Kwote.
What Is It and What Does It Do
Main Functionality
Kwote is a free automatic quote generator for Android but what makes it stand out from the rest is that it lets you design your quotes and share them as images. So if Instagram lets you edit and share photos, Kwote lets you edit and share quotes – particularly "picture quotes" or quotes with your own background photo. Apart from this, this app also flaunts a wide range of tools and text styles that you can use to edit and customize your quotes. It also features its large collection of love, life, funny, faith and inspirational quotes.
Pros
Easy to use
Nice and neat UI, stable and responsive
Features a large collection of quotes that are sorted out into ten different categories – faith, fitness, friendship, funny, life, love, motivational, music, famous movie quotes and honoring Mandela – just generate a random quote or choose a particular quote from its quotes list
Flaunts a wide range of tools and options for customizing quotes – background, text style and effects
You can use your own photo as a background image for your custom quote (picture quote)
You can add or enter your own custom quote
You can directly save a custom quote to your gallery or share it online via Twitter, Facebook, Pinterest, Instagram, etc.
Cons
None that I can think of but it would be nice if this app could add more tools and options that would help improve its overall features and functionality – ex. the option to mark a quote as favorite, support for landscape mode
Discussion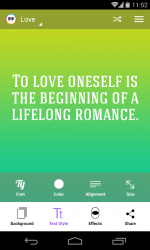 Kwote is a very nice app for generating and editing quotes. With this app, you can generate and customize a quote then save it as image. You may then share your custom quote to others via email, Facebook, Twitter, Instagram, Pinterest, etc. Simply put, this app works like Instagram or Pixlr Express but it's specifically intended for quotes.
Anyways, the way how Kwote works is quite simple. After opening the app, you just select any category from its drop-down menu (ex. Faith, Love, Music, etc.) and then you tap on the random selection button to automatically generate a quote. If you want, you can also select a particular quote by browsing the app's wide selection of pre-loaded quotes. As of now, this app features a large collection of quotes. There are inspirational quotes, life quotes, love quotes, funny quotes and a whole lot more. Plus, you can even provide your own quote. Just long-press on the app's text area, delete the existing quote then replace it with your own.
After choosing the quote that you want, just refer to the tools right below the app's canvas/editing interface. These are the tools that you can use to edit and customize your quotes. There's the background tool, text style tool, effects tool and of course, the share tool.
With the background tool, you can select a custom background for your quote. You can even use a photo from your image gallery or if you want, you can directly take a background photo using your device camera. Other than this, you can also pick a specific color or gradient as your quote's background. As for the text style tool, it is where you can change the text style, size, alignment and color of your quote. On the other hand, the effects tool is where you can apply all sorts of effects to your quote – ex. brightness, contrast, vignette, blur, etc.
Once you are done editing your quote, you may save it as image and then share it to others via email, SNS, SMS, Instagram Pinterest, Facebook, Twitter, etc.
All in all, I don't really have any serious issues with regards to the features and functionality of this app. However, it would be really great if this app gets to add more tools and options that would help improve its user experience. Like, for example, an option to mark a quote as favorite or an option to sort out quotes by alphabetical order. It should also be noted that this app's UI cannot be automatically switched to landscape mode.
Conclusion and Download Link
Kwote is a great app for editing and sharing quotes. It lets you generate a quote from its list and then you edit and customize that quote according to your liking. After which, you save the quote as image and then you share it to others via email, social media, etc. It's also glitch-free and you can definitely use it alongside your favorite photo editing apps such as Instagram, VSCO Cam or Pixlr Express. So go ahead and check it out. You can also check out a similar app called Notegraphy.
Price: Free
Version reviewed: 1.0.5
Requires: Android 4.0 and up
Download size: 2.6MB
Related Posts