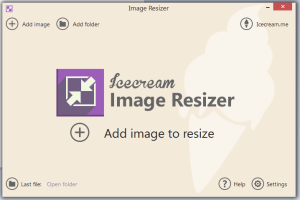 Most photo editors have a built-in photo resize tool but, what if you want to batch resize your photos using a pre-defined image size? Wouldn't it be too troublesome for you to individually resize each photo just so you could upload them to Facebook, Picasa or anywhere else? Speaking of which, why don't you just use an image resize tool that supports batch resizing and image size presets? If you don't know any, you can try this free image resize for Windows called "Icecream Image Resizer".
What Is It and What Does It Do
Main Functionality
Icecream Image Resizer is a free image resize tool for Windows that supports batch image resizing and image size presets. Furthermore, this tool flaunts a simple, stable and user-friendly interface. It also supports advanced options like keeping the original image aspect ratio, vertical image recognition, etc.
Pros
Neat, stable, responsive and user-friendly UI
Supports batch image resizing – you can resize multiple files and even an entire folder
Can resize JPG, JPEG, PNG and TIFF images
Supports image resize presets that are commonly used for popular tasks (ex. Email – 1024 x 768, Facebook Timeline Cover – 851 x 851, small photo – 320 x 200, medium photo – 800 x 600, large photo – 1600 x 1200, etc.)
Drag-and-drop support
Works offline, no Internet connection required
Cons
Lacks option for creating custom image size presets – you cannot create your own presets
The tool's UI cannot be minimized to the system tray area
Discussion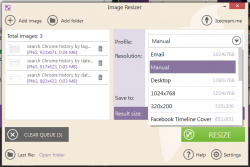 Icecream Image Resizer is designed to support batch image resizing so you can use it to resize multiple files at once. The way it works is also quite simple. Upon installation, you just need to follow the on-screen instructions. What's also great about this tool is that doesn't contain any bloatware. Once installed, just launch the tool from your program files and you will be immediately taken to its neatly-designed, responsive and user-friendly UI. The controls and options are also very visible and easy to recognize.
To resize an image, just select "Add image" or "Add folder". You can also opt to drag and drop the image directly to the image resize panel. If you choose "Add folder", then you can resize an entire folder of JPG, JPEG, PNG and TIFF images according to your preferred size. The output files will then be saved to your desired location. By default, the tool will automatically create a subfolder for your resized images and place it inside your source folder.
Anyways, the way how Icecream Image Resizer works is pretty straightforward. There are no complex steps or methods to follow so it's ideal for users of all levels. It is also stable enough for you to use on a regular basis. Plus, it works offline so you can use it even if you do not have any direct access to a stable Internet connection.
Another thing that I like about Icecream Image Resizer is that it provides image resize presets. These are pre-defined values for setting your preferred image size. Thus, you can easily choose a preset for an image that you wish to use as your Facebook's cover photo, desktop wallpaper, iPhone background image, email attachment, etc. Apart from this, this free image resize also supports advanced options like maintaining the image's original aspect ratio so that the output file won't appear distorted. In addition, this tool also supports other languages such as German, Spanish, Italian, French, etc.
All in all, I can say that this free image resize tool is very convenient to use. It can be very handy for users who often upload and share their photos online as well as to those who are looking for a quicker and more efficient way to batch resize their images. Functionality wise, I don't really have any serious issues with this tool. It works as advertised. I just find it a bit of a downer that it lacks support for custom image resize presets – which basically means that you can't create and save your own preset. You cannot also minimize the image resize tool's window to the system tray area.
Conclusion and Download Link
If you are searching for a stable and reliable free image resize tool for Windows, I would highly suggest that you try Icecream Image Resizer. It flaunts a nice and neat UI, it's user-friendly plus it can conveniently resize your images at any given time. So, go ahead and feel free to give it a try.
Price: Free
Version reviewed: 1.01
Supported OS: Windows XP, 2000, Vista, 7 and 8
Download size: 15.9MB
VirusTotal malware scan results: 1/53
Is it portable? No
Icecream Image Resizer homepage
Related Posts