Microsoft have done little to revamp the Command Prompt window. Windows Aero adds transparency to the Command Prompt window border, but little else. However, with Glass CMD we can transform the Command Prompt's window into a much more transparent alternative.
To add Glass CMD to Windows Vista/7, open this page and click Download to save the RAR file. As it's a RAR file you should extract it with the freeware 7-Zip utility for Windows. Then right-click on the RAR file, select 7-Zip and Extract files to open the window below.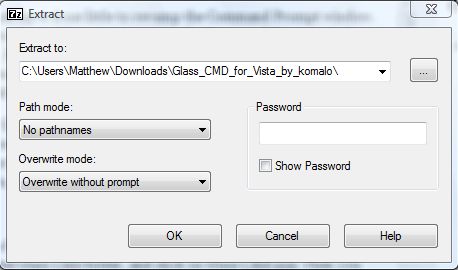 Select a folder location, and click OK to close the window. Open the extracted Glass CMD folder, and click on Glass CMD.exe. Then you should find a Glass CMD  icon in the system tray. To revert back to the original Command Prompt window, you can right-click on the Glass CMD system tray icon and select Exit. Enter cmd in the Windows Start menu search box to open the transparent Command Prompt below.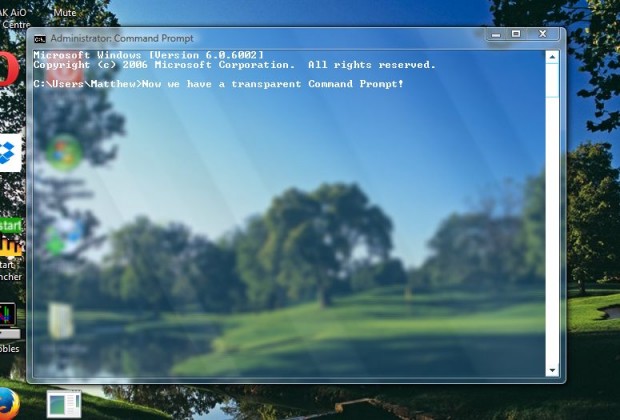 Aside from the transparency, the Command Prompt will probably have an alternative color. You can adjust the color of the Command Prompt by right-clicking the desktop, selecting Personalize and Window Color and Appearance. That opens the window below where you can click on the colored boxes to choose alternative colors for the Command Prompt.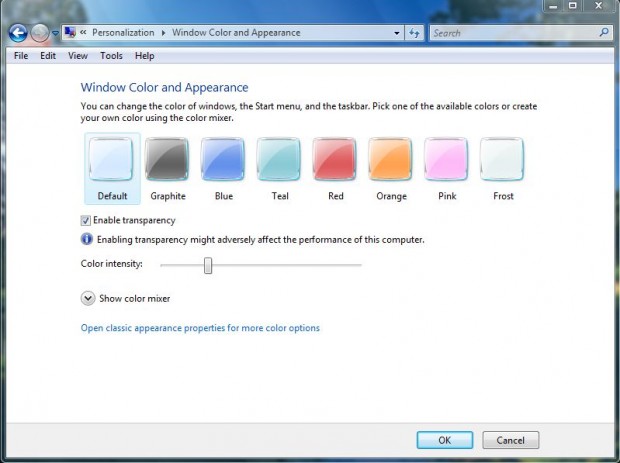 If you didn't already have the Enable transparency option selected when you opened the Command Prompt, now you can select the check box to add transparency to the window. Drag the Color Intensity bar to the left and right to increase or decrease the transparency of the Command Prompt. I've adjusted the Color Intensity bar to maximize the transparency of the Command Prompt window in the shot below.
Glass CMD is a great customization package for the Command Prompt. Not only does it add transparency to its window, but you can also select  alternative colors for it. As such, those who make regular use of the Command Prompt should certainly check Glass CMD out.
Related Posts