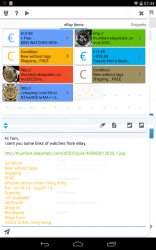 Imagine this scenario. You're typing a message or email but alas, you forgot to copy the links that you're supposed to include in the message. Now, you're left with no other choice but to close your messaging app and switch to your browser. It's such a hassle. Fortunately, there's StuffMerge Message Wizard – a free clipboard manager with fast messaging support.
What Is It and What Does It Do
Main Functionality
StuffMerge Message Wizard is a free message and clipboard wizard that you can use on your Android tablet or smartphone. This app basically integrates the clipboard manager into its "compose new message" interface so there's no need for you to switch from one app to another. Just copy all the texts and links that you wish to copy, compose a new message and then include any of the items that you stored on your clipboard manager. Once you're done, press "Send". It's that simple.
Pros
Easy and convenient to use
Neat, stable and responsive
Its built-in clipboard manager can copy and store links and texts then sort them out into groups
Flaunts a built-in "compose new message" tool with direct access to clipboard manager
Non-obtrusive – the app silently runs in the background
Cons
The app cannot copy and paste an image or photo as it is. Instead, it will copy the direct link to the image.
Discussion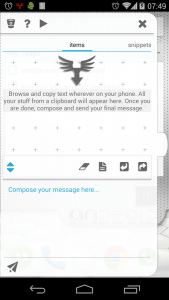 Upon launching StuffMerge Message Wizard, it will silently run in the background. At the same time, it will also add its subtle drawer icon on the left border of your screen. Just click on the drawer icon to open the app's interface.
As you can notice, the app's interface is mainly divided into two sections. The upper section is where you can view and manage your copied links and texts. You can even sort out your copied contents into groups. On the lower section, you'll find an empty area where you can freely compose your message. There are also tools on the upper-right portion of the "compose new message" section. You can use these tools to clear the message area, copy the entire message to clipboard, etc. You can also use the undo/redo buttons. To minimize the app's interface, just tap on its drawer icon and it will be automatically hidden from your screen. Even so, the app will still remain active and running.
To use this app, the first thing that you need to do is to browse and copy the texts and links that you wish to include in your message. Just like what you usually do, just copy the texts and links to your clipboard and once you're done, simply open the StuffMerge Message Wizard. You'll then see that all of your copied texts and links have been automatically stored on the app's clipboard manager. If you tap on any of the copied items, they will be automatically added to your message. If you click on the arrow next to the copied link or text, you can view more tools for managing each copied item.
Anyways, just compose the message that you want then include the links in the clipboard. Since everything is located in one place, you don't need to switch apps or tasks just to find and copy the links that you want. It's very convenient. Once you're done, simply press the send button. You can opt to send your message via Bluetooth, email, SMS, SNS, etc.
All in all, I can say that StuffMerge Message Wizard can really help you save a lot of time and effort. Instead of switching from one app to another, you can just use this app to quickly access your clipboard manager and at the same time, compose a new message. There's no need for you to open your browser just to copy one link and then go back to your SNS app just to paste the link and so on.
Conclusion and Download Link
StuffMerge Message Wizard is a very useful tool. It will definitely come in handy whenever you need to send a message that includes multiple links and copied items. It's also very responsive and stable. Plus, it flaunts a neat, modern and user-friendly interface. So, go ahead and feel free to give it a try.
Price: Free
Version reviewed: 1.3.778
Requires: Android 3.0 and up
Download size: 681KB
StuffMerge Message Wizard on Play Store
Related Posts