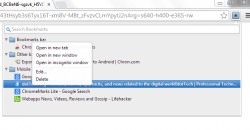 Are you wondering if there's a better and quicker way to access your Chrome bookmarks? Well, there are lots of ways to view and manage your bookmarks but if you wish to access them in just one-click and have them listed in a popup window, then you better check out this extension called Neat Bookmarks.
What is it and what does it do
Main Functionality
Neat Bookmarks is a free browser extension for Chrome. It lets you access and view all of your bookmarks in a tree-style layout but instead of loading your bookmarks in a new tab, it will load them in a resizable popup window. If you want, you can also use this tool to search your bookmarks list right within your address bar. Just type "*" then press TAB.
Pros
Simple, neat and easy to use
Slick UI – responsive and stable
Configurable settings and options
Has an integrated search box for quick search
Supports related product search for instant product price comparisons
Non-obtrusive – you can even choose to hide the extension's button from your browser's address bar
Cons
None that I can think of but it would be great if its users can change its popup window transparency and color
Discussion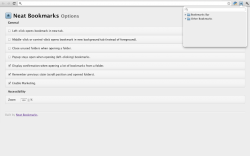 Simply put, Neat Bookmarks offers a simpler and quicker way for you to access your Chrome bookmarks. By default, you get to access your bookmarks by pressing either "Ctrl + Shift + B" or "Ctrl + Shift + O". For some, remembering a few keyboard shortcuts isn't really a big deal but what if you want to access all of your bookmarks in just one click? Well, that's exactly why this extension exists.
Instead of opening another tab just to view or access your bookmarks manager, just install the Neat Bookmarks extension on your browser. After which, it will immediately add its shortcut icon to your omnibar (it's located on the right side of the address bar). So, if you want to access your bookmarks, just click on the icon and a small pop-up window containing all of your bookmarks will appear. To view a bookmark, just click on any of the folders or items on the list. If you hover on a bookmark, you will see its full title and link.
As you can notice, Neat Bookmarks flaunts a tree-style layout in a popup window. The popup window is also resizable. Its default size is small but you can enlarge it by placing your mouse over its left border and then you drag it to the left side of your screen. Apart from this, you can also use the extension's built-in search tool to search for specific bookmarks and links.
Another thing that I like about this extension is that you can reorganize your bookmarks right within its popup window. Just hold your mouse then drag the item that you wish to move, place it over the folder that you want and release. It's that simple. If you want to delete or edit an existing bookmark, just right-click on it then select any of the options listed in the right-click menu. Just like the usual way of opening bookmarks, you can opt to open them in a new tab, new incognito tab or new window.
All in all, I can say that Neat Bookmarks is a pretty slick tool. Is it more convenient than the usual way of viewing bookmarks? Well, I'd say yes because all you need is to click the icon and that's it. There's no need for you to click the menu key then go to Bookmarks > Bookmarks Manager, etc. There's also no need for you to open any additional tab. Apart from this, this extension also supports mouse-click shortcuts. Plus, you can also enable its related product search function so that you can immediately compare prices while you shop for certain items or products.
Furthermore, I did not encounter any serious problems while using this extension – except for a few search errors. Design and layout wise, it looks okay but it would be nice if it could add options for adjusting the popup window transparency as well as its color.
Conclusion and download link
I like how neat and simple this extension is. It is very convenient to use especially if you are the type who rarely uses keyboard shortcuts. To sum it up, Neat Bookmarks provides a one-click method for viewing and managing your bookmarks so go ahead and check it out.
Price: Free

Version reviewed: 0.9.17

Requires: Chrome on Windows XP, Vista, 7, 8, Linux and Mac OS X

Related Posts