Adding a website page to your bookmarks saves the entire page. You cannot bookmark just a few smaller snippets of text from a specific page. However, thanks to the ScrapBook Firefox add-on we can now bookmark snippets of Web pages as well!
This is the ScrapBook page that you can add it to Firefox from. Once you've selected the + Add to Firefox option and restarted the browser, you'll find a new ScrapBook menu on the browser's menu bar as shown in the shot below. If you haven't got the menu bar switched on, click the Open menu option and Customize. Then click the Show/Hide Toolbars button and select Menu bar.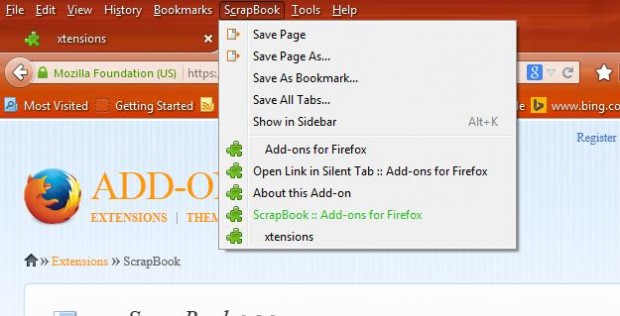 Saving Web Page Snippets
Now open a Web page, hold the left mouse button and drag the pointer across the page to select some text and images on it. Click ScrapBook on the menu bar and then Save Selection As. That opens the window in the shot below, which you can select various options from.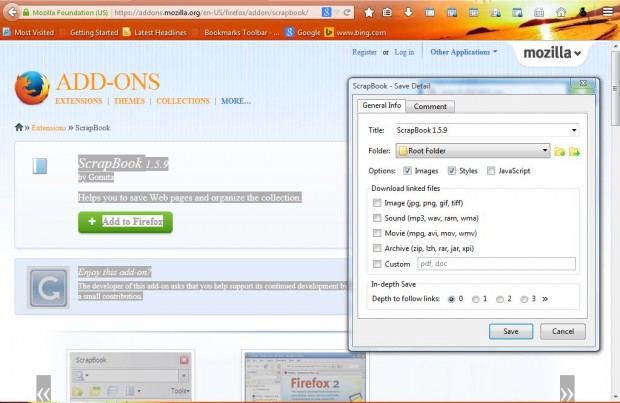 Click on the Save button to bookmark the page snippet. To open the page snippet bookmark, click ScrapBook and select the bookmark's title from the menu. The page bookmark opens as in the shot below, and includes just the page content that you selected.
The ScrapBook Toolbar
Note the new toolbar at the bottom of the page. The ScrapBook add-on also includes editing options for page bookmarks. For example, you can highlight parts of the page by selecting some text and then clicking the Highlighter button.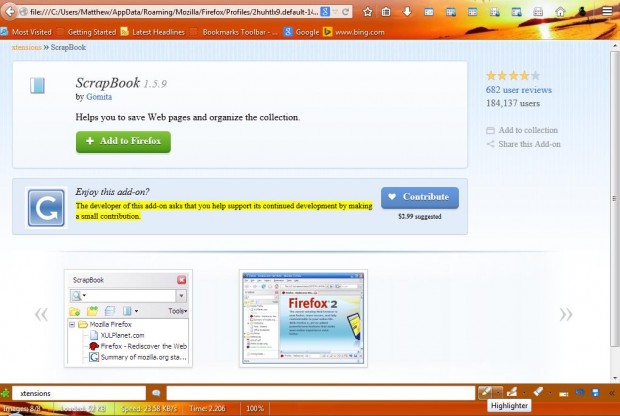 That toolbar also has a sticky note option. Click the Create Sticky Annotation button to add a note to the page as below. Then enter some text into the note, and drag it to a suitable part of the page. Click the Save button to add the note to the page.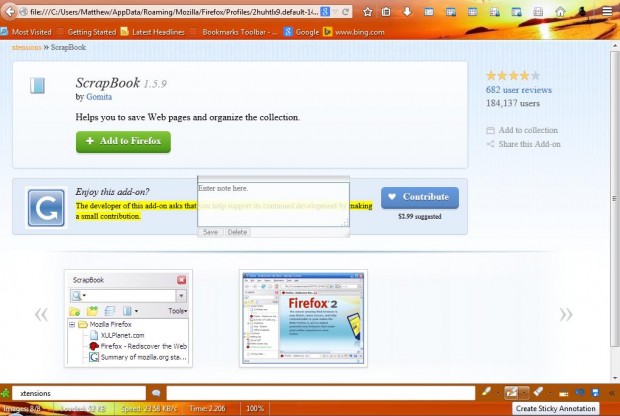 The ScrapBook Sidebar
The add-on has a search box that you can locate your bookmarks with. Open the ScrapBook menu and select the Show in sidebar option. That shows your bookmarks in a sidebar as in the shot below. At the top of the sidebar there is a search box that you can enter keywords in to find ScrapBook bookmarks.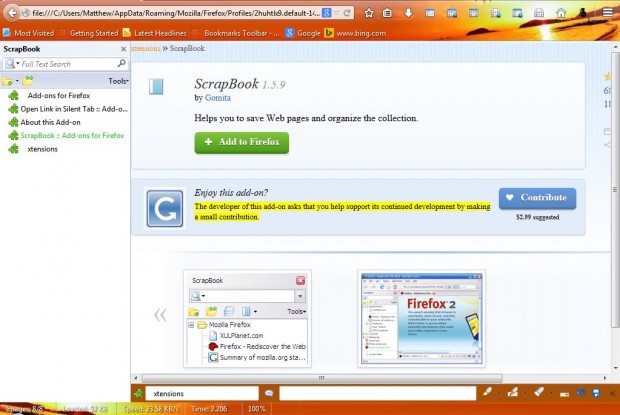 ScrapBook is a Firefox add-on packed full of options. With it you can chop your page bookmarks down to size, highlight text on the pages and add notes to them. So it's a great add-on for the Firefox browser.
Related Posts