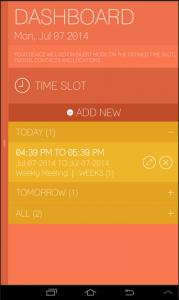 You may have already heard that Android L is already due for release this coming fall. Guess what? It's also packed with new, useful and interesting features such as its "Do Not Disturb" mode for incoming notifications. While waiting, you might want to check out "Mr.Silent" – a free app that offers a similar functionality but is practically meant for Android devices running on lower OS versions.
What Is It and What Does It Do
Main Functionality
Mr.Silent (a.k.a. Mr. Silent, Auto silent mode) is a free Android app that uses condition-based options to automatically put your device to silent mode. The said conditions are as follows:
Time – by setting a "start time" and "end time", you can automatically put your device to silent mode within a specific period of time (you can also repeat this condition on a daily, weekly and monthly interval)
Event – shush your device during a specific event that you've listed on your device calendar (ex. meetings, concerts, class lectures, etc.)
Contacts – if ever a contact from your "blacklist" makes a call, that call will be automatically put to silent mode
Location – shush your device whenever you're within a specific place or location
Just set your desired condition and let the app do the rest of the work. You can also choose whether to set it to auto-silent or auto-vibrate mode.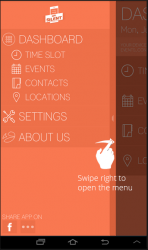 Pros
Easy to use
Neat, stable, responsive and well-designed UI
Uses condition-based features to put your device to auto silent or auto vibrate mode – ex. time, event, contact and location
Configurable settings – you can set your preferred location refresh rate and ringer (sound) profile
Multiple geo-location support
You can set and enable two or more conditions at once
Cons
There's no option to change the app's theme color (the default is orange with shades of dark yellow)
Needs a module status overview in the app dashboard
Discussion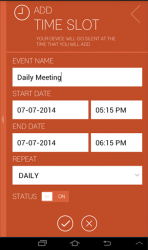 With Mr.Silent, you have the option to automatically shush your device according to your desired condition. As I've already mentioned above, the app can put your device to auto silent or auto vibrate mode based on your desired time, event, contact or location. Just select your desired condition and that's it. The app will do the rest of the work. You can even set multiple conditions at once.
The way how the app works is quite simple. After installing the app, just launch it and then go to its dashboard. As you can notice, the app flaunts a neat and attractive user interface. It's also user-friendly, responsive and very stable.
To set a condition for your device, just choose from its given list of options. There's the time slot, events, contacts and location. In the time slot, you can set the "start time" and "end time" as well as the repeat cycle for the time slot that you wish to automatically put to silent mode. As for events, just select a specific event from your device calendar. As for contacts, just select a contact that you wish to place to your "whitelist" or "blacklist". By default, all of the contacts that you place to your "blacklist" will be automatically put to silent mode every time they make a call. As for location, just indicate the place name, radius, latitude and longitude of the location and don't forget to save your settings. You're also free to change the status for each module that you create, meaning you can switch a module off or on whenever you like. You can also edit each module to update your desired conditions.
All in all, I can say that Mr.Silent is a very decent utility tool that will benefit a lot of Android users. By using predefined conditions, you can set your device to automatically go on silent or vibrate mode right before you go to sleep, attend a business meeting or class lecture. It's also good to know that this app supports devices with lower OS versions and not just those that runs on Android 4.0 and up. Apart from this, I also like the app's UI. It's just a bummer that it doesn't offer any other theme colors plus there's no way for you to view a module's status without actually clicking on it.
Conclusion and Download Link
If you are looking for a reliable app that you can use to automatically put your device to silent or vibrate mode, then you can definitely rely on Mr.Silent. Aside from its minor drawbacks, it is stable and responsive. So go ahead and check it out.
Price: Free
Version reviewed: 1.0.0
Requires: Android 2.2 and up
Download size: 2.5MB
Related Posts