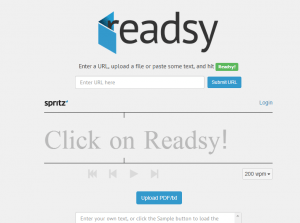 In speed reading, it is also necessary for the reader to read with the full understanding of what he or she has read. Simply put, you can't just read fast for the sake of reading fast. You also need to comprehend what you're reading or else, it's useless. Speaking of which, Readsy is a free web app that is designed for speed reading. Let's find out if it can live up to your standards.
What is it and what does it do
Main Functionality
Readsy is a free web app that you can use to hone your skills in speed reading. What this app does is that loads the text that you want to read on its interface but instead of showing the full sentence or paragraph, it will only let you read one word at a time. This will help you read a lengthy post or article or even an entire eBook without feeling tempted to skip to the last page. The good thing about this app is that you can adjust its reading speed in words per minute. Plus, it provides basic playback controls.
Pros
Neat and simple UI
Users can adjust the word per minute (reading speed) from 200 wpm, 250 wpm, 300 wpm to 400 wpm
Has a built-in text editor – ideal for removing article headers, post titles, links, etc.
Can load texts from links, PDFs and TXT files
Automatically remembers the last word that you've read
Tracks your progress by displaying your completed words out of the total words listed
Basic playback options – back to beginning, go to previous sentence, go to next sentence, play and pause
Cons
None that I can think of but if you want to access more options, you'll be required to log in or register
Discussion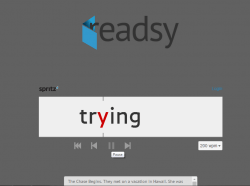 Readsy works on any browser. To use this speed reading tool, just go to its web interface and then drag its bookmarklet to your bookmarks bar. After which, you're all set to start your speed reading activity. Just paste the link of the page or post that you want to read on the field provided. If you want, you can also opt to upload a PDF or TXT file. The web app supports these formats.
After loading the text that you wish to read, you can edit it using the web app's built-in text editor. If you're reading eBooks, editing texts may seem unnecessary but it will definitely come in handy if you're reading online articles with redundant headers and sections.
After editing the text that you wish to read, just select your desired WPM or reading speed. You can set the speed to 200 wpm, 250 wpm, 300 wpm or 400 wpm. Just bear in mind that if you wish to lower or increase your reading speed, then you will be required to log in or register.
Once you're done setting your desired wpm, just click the "Readsy!" button and the web app will automatically shift to its reading mode. While on reading mode, the app's interface will darken so you can focus more on reading the words that are shown on its text panel. As I've already mentioned above, Readsy will not show the entire sentence or paragraph. Instead, it will only display one word at a time but you can use its basic playback controls to go back or jump from one sentence to another. You can also pause to take a quick break. The app will automatically remember the last word that you've read.
To sum it all up, Readsy does what it is intended to do. Is it effective? Can it really help you read faster and at the same time, gain a full understanding of what you are reading? The answer is yes, it can. It works great on texts or books that you need to finish reading even if you don't really want to. It also helps you read lengthy posts within a short period of time.
Conclusion and download link
Readsy is not only good for people who have slow reading skills but also to those who wish to focus more on the context of what they're reading. Furthermore, this web app works on any browser so it's far more accessible than an app or extension that only works on a specific platform. Users are also not required to log in or register. If you are an avid reader, then this tool is truly worth checking out.
Price: Free

Version reviewed: N/A

Requires: Works on any browser (ex. Chrome, Firefox, Safari, Opera, etc.)

Related Posts