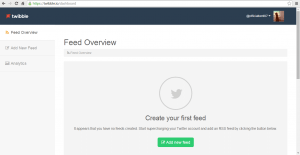 It is quite common among bloggers and writers to use all sorts of Twitter automation tools in order to efficiently manage and update their social media accounts. However, this doesn't mean that you can't do the same even if you're just a regular Twitter user. As a matter of fact, you can use a simple RSS-to-Twitter service such as Twibble to automatically tweet the articles from your favorite sites and blogs.
What is it and what does it do
Main Functionality
Twibble is a simple RSS-to-Twitter service that you can use to automatically schedule and tweet content from various RSS feeds. All you need to do is to connect your Twitter account to the web app and then add a new RSS feed. The good thing about this web app is that it provides options for advanced tweet scheduling. Therefore, you can control the amount and frequency of your tweets. You can also customize the format of your tweets by adding #hashtags, prefixes, images, @mentions, etc.
Pros
Neat and user-friendly UI
Lets you schedule and post tweets at a given time interval
Integrated analytics – includes your daily click times, click rates, popular hashtags and click locations
You can easily activate / deactivate your tweet feed at any given time
You can add and manage multiple Twitter accounts
You can share your feeds to others
Cons
Minor glitches and errors
Discussion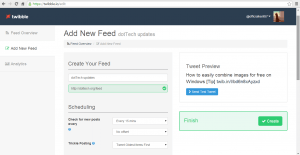 Twibble is free to try. To use it, you simply need to link your Twitter account to the web app to access your private dashboard. On the left side of your dashboard, there are three main options – feed overview, add new feed and analytics.
The feed overview is where you can view a summary of all of your tweet feeds. If you want to add a new feed, just click the option for "add new feed". If you want to view your feed stats, you can click the option for "analytics".
For adding a new feed, you just need to enter your preferred RSS feed name together with the RSS feed URL. It doesn't matter if you don't own a site or blog. The web app will work for as long as you can provide a valid RSS feed. Anyhow, you can also opt to customize the way how you want the app to schedule and post your tweets.
Unlike other web apps, Twibble does not immediately post the tweets. It sets various time intervals for tweet scheduling. Therefore, you can set the web app to check for new posts every five minutes, ten minutes, fifteen minutes, twenty minutes and so on. You can also set a custom posting time. Like, for example, you can configure the web app to post updates from a particular feed every weekend starting from 6am to 1pm. You can also set the app to post two or more tweets at a time.
In addition, you can also customize the way how you want your tweets to appear on your Twitter timeline. You can add hashtags, prefixes, account mentions, etc. You can even specify your preferred link shortening service. You can also use Twibble to schedule and post tweets to multiple Twitter accounts.
All in all, I find this web app really easy to use. Thanks to its user-friendly interface, you can easily figure out what to do. It is not only great for bloggers, writers, site owners and internet marketers; it is also suitable for users who are looking for ways to gain more followers.
However, you can't really expect the said web app to be as stable and responsive as TwitterFeed or Dlvr.it. As a matter of fact, its dashboard has a couple of minor glitches and errors that needs to be fixed. For some reason, the feed overview displays four sections of the same feed URL.
Conclusion and download link
If Twibble continues to offer its RSS-to-Twitter posting services for free, then it will definitely become a suitable choice for users who are constantly looking for ways to efficiently publish their posts on Twitter. As of now, it still needs a few more fixes but you're free to give it a try. As for those who are looking for a more stable alternative, you can check out TwitterFeed and Dlvr.it.
Price: Free

Version reviewed: N/A

Requires: Works on any web browser (Chrome, Firefox, Opera, Safari, IE, etc.)

Related Posts