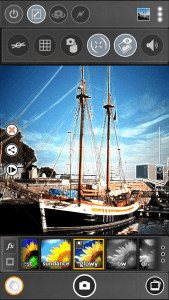 Not satisfied with your current camera app? Well, you can start looking for an app that can actually provide you with the tools and features that you want. Speaking of which, have you already heard of this simple yet powerful app called Cameringo? It's a camera and photo editing app that is fully packed with splendid live filters and photo effects.
What Is It and What Does It Do
Main Functionality
Cameringo is a camera and photo editing app for Android. With this app, you can capture, edit and enhance your photos using various filters and photo effects. As a matter of fact, this app currently features over 125 photo effects which range from pop to retro to twist and mash and even fisheye lenses. You can even use this app to record and create GIFs. It should also be noted that this app supports live filters and other advanced tools such as the ones listed below:
Photo adjustments – exposure, brightness, contrast, saturation, temperature
Real-time picture preview
After shot review
White balance, histogram
Grids and guidelines
Effects mode, timer, zoom, geo-tagging
Image stabilizer, auto-crop to square, virtual flash and a whole lot more
Pros
Comprehensive user interface
Neat, responsive and stable
Has a built-in camera for capturing photos
Can edit existing photos from your gallery/local storage
Features a wide range of tools and options for capturing and editing photos
Features live filters including fisheye lens effects, hipsta, lomo, retro, mono, faux, toon, art, traces, sketch, pop, morfo, twist, mash and a whole lot more. There are also various frames and borders.
Can record and create GIFs (with fast motion support) – 24s, 40s and 60s
Instant photo sharing
Front-facing camera with virtual flash support
Cons
Discussion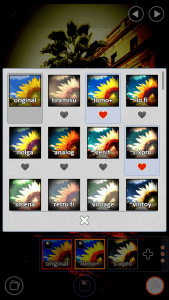 Cameringo has a lot of tools and features to offer to its users. Plus, it flaunts a simple yet powerful user-friendly interface. It also features its unique viewfinder wherein you can easily browse the photos that you've previously taken against the live image. Aside from this, the app also flaunts a wide variety of live photo effects, frames and borders. It even includes a wide range of fisheye lens effects like fish eye+, wide, sphere and loko.
With Cameringo, you can either use your rear-facing camera or front-facing camera to capture and edit photos. You can also use the app to edit your existing photos. It even flaunts a feature called "virtual flash" which is quite handy especially if you are taking photos in dark places. The said feature also works even if your device doesn't have a built-in flash support.
Another thing that I like about Cameringo is that it can record and create GIFs. You can even apply the same filters and effects to your GIF animations. Plus, you can record GIFs that can last for 24, 40 to 60 seconds. There's even a fast motion feature which is great for time-lapse photographs.
Apart from this, the app is also very suitable for avid Instagram users since you can easily crop your photos to square. That's not all. The app also has a built-in image stabilizer. You can also take hands-free shots using its built-in timer.
All in all, this app goes beyond providing you with lots of stunning effects and filters. It's a great camera replacement app since it's fully-packed with features and options. It's also very fast, stable and user-friendly. Plus, it has high quality filters. What I like most about it is that you can apply or preview the filters in real-time.
Functionality wise, I don't really have any serious concerns regarding this app. It works very well. You will definitely not regret giving it a try. Just keep in mind that the app has two versions. The Lite version is available for free while the full version can be purchased at the Play Store for less than a dollar.
Conclusion and Download Link
If you are looking for good camera replacement app for your Android device, I would strongly suggest that you check out Cameringo. It is a feature-packed app that offers a wide variety of live filters, frames and borders. Despite its advanced functionality, it's still user-friendly. So go ahead and feel free to give it a try.
Price: Lite – Free, Full – $0.99
Version reviewed: 1.7.7
Requires: Android 2.2 and up
Download size: 3.2MB
Related Posts